Women's Shale Super Softshell® Jacket
{"product_form_footer_1":"\u003cp\u003eFree Shipping For Orders Over $50\u003c\/p\u003e","product_form_footer_2":""}
[ {"size_guide_tag":"womens-outerwear-size-guide","size_guide_image":"\/\/cdn.shopify.com\/s\/files\/1\/2097\/1975\/files\/womens-outerwear-size-guide.jpg?v=1517023290"}, {"size_guide_tag":"womens-swim-size-guide","size_guide_image":"\/\/cdn.shopify.com\/s\/files\/1\/2097\/1975\/files\/Updated-Womens-Swim-Size-Guide.jpg?v=1517023337"}, {"size_guide_tag":"girls-size-guide","size_guide_image":"\/\/cdn.shopify.com\/s\/files\/1\/2097\/1975\/files\/Girls-Size-Guide.jpg?v=1517023316"}, {"size_guide_tag":"kids-glove-size-guide","size_guide_image":"\/\/cdn.shopify.com\/s\/files\/1\/2097\/1975\/files\/Fall_2016_Kids_Gloves.jpg?v=1517023316"}, {"size_guide_tag":"kids-glove-size-guide-2015","size_guide_image":"\/\/cdn.shopify.com\/s\/files\/1\/2097\/1975\/files\/Kids-Gloves-Chart-2015.jpg?v=1517023316"}, {"size_guide_tag":"mens-and-womens-gloves","size_guide_image":"\/\/cdn.shopify.com\/s\/files\/1\/2097\/1975\/files\/Men-Women-Gloves-SM_-LXL.jpg?v=1517023316"}, {"size_guide_tag":"mens-size-guide-with-b\u0026t","size_guide_image":"\/\/cdn.shopify.com\/s\/files\/1\/2097\/1975\/files\/mens-size-guide-with-b_t_8cb380a6-3e10-4c8b-ade0-d848d9650297.jpg?v=1519851280"}, {"size_guide_tag":"womens-petite-size-guide","size_guide_image":"\/\/cdn.shopify.com\/s\/files\/1\/2097\/1975\/files\/Women_s_PETITE_size_guide_656647d1-013e-46fd-bb7a-d706a7ee234b.jpg?v=1517023337"}, {"size_guide_tag":"womens-plus-swim-size-guide","size_guide_image":"\/\/cdn.shopify.com\/s\/files\/1\/2097\/1975\/files\/New-Plus-Size-Swim-Size-Guide_8ccdff1b-7dab-4341-8ec8-c0fffbd6d6f5.jpg?v=1517023337"}, {"size_guide_tag":"womens-plus-outerwear-size-guide","size_guide_image":"\/\/cdn.shopify.com\/s\/files\/1\/2097\/1975\/files\/Womens-Outerwear-PLUS-Size-Guide---2014_440dbddc-498e-4612-a47f-d23d0c8d9b70.jpg?v=1517023337"}, {"size_guide_tag":"boys-size-guide","size_guide_image":"\/\/cdn.shopify.com\/s\/files\/1\/2097\/1975\/files\/Boys-Size-guide_b7f4f85a-d3ea-4c0f-873b-ab023e8f4166.jpg?v=1517023337"}, {"size_guide_tag":"boys-size-guide-little","size_guide_image":"\/\/cdn.shopify.com\/s\/files\/1\/2097\/1975\/files\/Boys-Size-guide-LITTLE_5350b69a-5540-4a65-9ea0-d2881692ff5a.jpg?v=1517023337"}, {"size_guide_tag":"girls-size-guide-little","size_guide_image":"\/\/cdn.shopify.com\/s\/files\/1\/2097\/1975\/files\/Girls-Size-Guide-LITTLE_4cc268b5-6053-4384-9b9e-276f5b5920b3.jpg?v=1517023337"}, {"size_guide_tag":"girls-windbreaker-size-guide","size_guide_image":"\/\/cdn.shopify.com\/s\/files\/1\/2097\/1975\/files\/girls-windbreaker-size-guide.jpg?v=1517023337"}, {"size_guide_tag":"girls-swim-size-guide","size_guide_image":"\/\/cdn.shopify.com\/s\/files\/1\/2097\/1975\/files\/Girls-Swim-Size-Guide_fc2f9e6b-8482-4cb3-b986-b62186f68ab3.jpg?v=1517023337"}, {"size_guide_tag":"boys-swim-size-guide-costco","size_guide_image":"\/\/cdn.shopify.com\/s\/files\/1\/2097\/1975\/files\/Boys-costco.jpg?v=1517023337"}, {"size_guide_tag":"kids-size-guide-sams","size_guide_image":"\/\/cdn.shopify.com\/s\/files\/1\/2097\/1975\/files\/Big_and_Little_Kids_Size_Chart_-_Sams_ede0e12b-3094-4b7f-bf43-dacd9ea04eff.jpg?v=1517023399"}, {"size_guide_tag":"kids-size-guide-toddler","size_guide_image":"\/\/cdn.shopify.com\/s\/files\/1\/2097\/1975\/files\/Toddler_size_guide.jpg?v=1517023399"}, {"size_guide_tag":"boys-windbreaker-size-guide","size_guide_image":"\/\/cdn.shopify.com\/s\/files\/1\/2097\/1975\/files\/Boys_windbreaker_size_guide_-_pricesmart_538cb3dd-08b4-46f0-ac61-3925462b1ede.jpg?v=1517023406"}, {"size_guide_tag":"girls-down-size-guide","size_guide_image":"\/\/cdn.shopify.com\/s\/files\/1\/2097\/1975\/files\/Girls-Specular-Down-Size-Guide_049aa289-be22-44a8-8ee3-2764cfb549db.jpg?v=1509396996"}, {"size_guide_tag":"men-women-glove-size-guide-2017","size_guide_image":"\/\/cdn.shopify.com\/s\/files\/1\/2097\/1975\/files\/Adult_Gloves_Size_Guide_-_2017.jpg?v=1509552630"}, {"size_guide_tag":"boys-glove-size-guide-2017","size_guide_image":"\/\/cdn.shopify.com\/s\/files\/1\/2097\/1975\/files\/Boys_Gloves_Size_Guide_-_2017.jpg?v=1509552650"}, {"size_guide_tag":"girls-glove-size-guide-2017","size_guide_image":"\/\/cdn.shopify.com\/s\/files\/1\/2097\/1975\/files\/Girls_Gloves_Size_Guide_-_2017.jpg?v=1509552666"}, {"size_guide_tag":"dog-jacket-size-guide","size_guide_image":"\/\/cdn.shopify.com\/s\/files\/1\/2097\/1975\/files\/Dog_Size_Chart-01.jpg?v=1513005572"}, {"size_guide_tag":"boys-costco-size-guide","size_guide_image":"\/\/cdn.shopify.com\/s\/files\/1\/2097\/1975\/files\/boys-costco-size-guide.jpg?v=1535644385"}, {"size_guide_tag":"girls-costco-size-guide","size_guide_image":"\/\/cdn.shopify.com\/s\/files\/1\/2097\/1975\/files\/girls-costco-size-guide.jpg?v=1535644425"}, {"size_guide_tag":"free2b-size-guide","size_guide_image":"\/\/cdn.shopify.com\/s\/files\/1\/2097\/1975\/files\/free2b-size-guide.jpg?v=1539199007"}, {"size_guide_tag":"mens-active-size-guide","size_guide_image":"\/\/cdn.shopify.com\/s\/files\/1\/2097\/1975\/files\/mens-active-size-guide.jpg?v=1539199028"}, {"size_guide_tag":"boys-sock-size-guide","size_guide_image":"\/\/cdn.shopify.com\/s\/files\/1\/2097\/1975\/files\/boys-sock-size-guide.jpg?v=1541614345"}, {"size_guide_tag":"girls-sock-size-guide","size_guide_image":"\/\/cdn.shopify.com\/s\/files\/1\/2097\/1975\/files\/girls-sock-size-guide.jpg?v=1541614358"}, {"size_guide_tag":"mens-ski-pant-size-guide","size_guide_image":"\/\/cdn.shopify.com\/s\/files\/1\/2097\/1975\/files\/mens-ski-pant-size-guide.jpg?v=1560196284"}, {"size_guide_tag":"womens-ski-pant-size-guide","size_guide_image":"\/\/cdn.shopify.com\/s\/files\/1\/2097\/1975\/files\/ladies-ski-pant-size-guide.jpg?v=1560196300"}, {"size_guide_tag":"womens-bermuda-board-short-size-guide","size_guide_image":"\/\/cdn.shopify.com\/s\/files\/1\/2097\/1975\/files\/womens-bermuda-board-short-size-guide_487ae7ee-d6a2-4d1a-9654-01f0032574a4.jpg?v=1619800856"}, {"size_guide_tag":"womens-bermuda-board-short-ii-size-guide","size_guide_image":"\/\/cdn.shopify.com\/s\/files\/1\/2097\/1975\/files\/womens-bermuda-board-short-ii-size-guide_ad0b6652-58ef-431c-a1db-2c35b2fb727e.jpg?v=1619800874"}, {"size_guide_tag":"womens-plus-size-bermuda-board-short-ii-size-guide","size_guide_image":"\/\/cdn.shopify.com\/s\/files\/1\/2097\/1975\/files\/womens-plus-size-bermuda-board-short-ii-size-guide_0c27cd55-0d5c-4f3f-b07c-6fcf80b59a10.jpg?v=1619800901"}, {"size_guide_tag":"womens-plus-size-bermuda-board-short-size-guide","size_guide_image":"\/\/cdn.shopify.com\/s\/files\/1\/2097\/1975\/files\/womens-plus-size-bermuda-board-short-size-guide_b0d0fee3-77be-4a54-b7f6-e79b62a4700a.jpg?v=1619800918"}, {"size_guide_tag":"womens-wrap-swim-skirt-size-guide","size_guide_image":"\/\/cdn.shopify.com\/s\/files\/1\/2097\/1975\/files\/womens-wrap-swim-skirt-size-guide.jpg?v=1619801159"}, {"size_guide_tag":"womens-plus-size-wrap-swim-skirt-size-guide","size_guide_image":"\/\/cdn.shopify.com\/s\/files\/1\/2097\/1975\/files\/womens-plus-size-wrap-swim-skirt-size-guide.jpg?v=1619801223"}, {"size_guide_tag":"womens-boy-short-size-guide","size_guide_image":"\/\/cdn.shopify.com\/s\/files\/1\/2097\/1975\/files\/womens-boy-short-size-guide.jpg?v=1619801382"}, {"size_guide_tag":"womens-drawstring-swim-short-size-guide","size_guide_image":"\/\/cdn.shopify.com\/s\/files\/1\/2097\/1975\/files\/womens-drawstring-swim-short-size-guide.jpg?v=1619801544"}, {"size_guide_tag":"womens-plus-size-drawstring-swim-short-size-guide","size_guide_image":"\/\/cdn.shopify.com\/s\/files\/1\/2097\/1975\/files\/womens-plus-size-drawstring-swim-short-size-guide.jpg?v=1619801678"}, {"size_guide_tag":"womens-jean-swim-short-size-guide","size_guide_image":"\/\/cdn.shopify.com\/s\/files\/1\/2097\/1975\/files\/womens-jean-swim-short-size-guide.jpg?v=1619801802"}, {"size_guide_tag":"womens-mesh-detail-swim-short-size-guide","size_guide_image":"\/\/cdn.shopify.com\/s\/files\/1\/2097\/1975\/files\/womens-mesh-detail-swim-short-size-guide.jpg?v=1619802461"}, {"size_guide_tag":"womens-plus-size-mesh-detail-swim-short-size-guide","size_guide_image":"\/\/cdn.shopify.com\/s\/files\/1\/2097\/1975\/files\/womens-plus-size-mesh-detail-swim-short-size-guide.jpg?v=1619802524"}, {"size_guide_tag":"womens-petal-opening-drawstring-swim-short-size-guide","size_guide_image":"\/\/cdn.shopify.com\/s\/files\/1\/2097\/1975\/files\/womens-petal-opening-drawstring-swim-short-size-guide.jpg?v=1619802646"}, {"size_guide_tag":"womens-woven-stretch-cargo-short-size-guide","size_guide_image":"\/\/cdn.shopify.com\/s\/files\/1\/2097\/1975\/files\/womens-woven-stretch-cargo-short-size-guide.jpg?v=1619802828"}, {"size_guide_tag":"womens-plus-size-woven-stretch-cargo-short-size-guide","size_guide_image":"\/\/cdn.shopify.com\/s\/files\/1\/2097\/1975\/files\/womens-plus-size-woven-stretch-cargo-short-size-guide.jpg?v=1619802965"}, {"size_guide_tag":"womens-woven-stretch-swim-short-size-guide","size_guide_image":"\/\/cdn.shopify.com\/s\/files\/1\/2097\/1975\/files\/womens-woven-stretch-swim-short-size-guide.jpg?v=1619803094"}, {"size_guide_tag":"womens-plus-size-woven-stretch-swim-short-size-guide","size_guide_image":"\/\/cdn.shopify.com\/s\/files\/1\/2097\/1975\/files\/womens-plus-size-woven-stretch-swim-short-size-guide.jpg?v=1619803164"}, {"size_guide_tag":"womens-drawstring-swim-skirt-size-guide","size_guide_image":"\/\/cdn.shopify.com\/s\/files\/1\/2097\/1975\/files\/womens-drawstring-swim-skirt-size-guide.jpg?v=1619803587"}, {"size_guide_tag":"womens-plus-size-drawstring-swim-skirt-size-guide","size_guide_image":"\/\/cdn.shopify.com\/s\/files\/1\/2097\/1975\/files\/womens-plus-size-drawstring-swim-skirt-size-guide.jpg?v=1619803671"}, {"size_guide_tag":"womens-plus-size-drawcord-swim-skirt-size-guide","size_guide_image":"\/\/cdn.shopify.com\/s\/files\/1\/2097\/1975\/files\/womens-plus-size-drawcord-swim-skirt-size-guide.jpg?v=1619803766"}, {"size_guide_tag":"womens-side-shirred-skirt-size-guide","size_guide_image":"\/\/cdn.shopify.com\/s\/files\/1\/2097\/1975\/files\/womens-side-shirred-skirt-size-guide.jpg?v=1619803905"}, {"size_guide_tag":"womens-plus-size-side-shirred-skirt-size-guide","size_guide_image":"\/\/cdn.shopify.com\/s\/files\/1\/2097\/1975\/files\/womens-plus-size-side-shirred-skirt-size-guide.jpg?v=1619803968"}, {"size_guide_tag":"missy-tankini-size-guide","size_guide_image":"\/\/cdn.shopify.com\/s\/files\/1\/2097\/1975\/files\/missy-tankini-size-guide.jpg?v=1619804020"}, {"size_guide_tag":"plus-tankini-size-guide","size_guide_image":"\/\/cdn.shopify.com\/s\/files\/1\/2097\/1975\/files\/plus-tankini-size-guide.jpg?v=1619804034"}, {"size_guide_tag":"mens-AOW-size-guide","size_guide_image":"\/\/cdn.shopify.com\/s\/files\/1\/2097\/1975\/files\/mens-AOW-size-guide.jpg?v=1620935243"}, {"size_guide_tag":"mens-big-and-tall-size-guide","size_guide_image":"\/\/cdn.shopify.com\/s\/files\/1\/2097\/1975\/files\/mens-big-and-tall-size-guide.jpg?v=1620935263"}, {"size_guide_tag":"womens-AOW-size-guide","size_guide_image":"\/\/cdn.shopify.com\/s\/files\/1\/2097\/1975\/files\/womens-AOW-size-guide.jpg?v=1620935281"}, {"size_guide_tag":"womens-plus-AOW-size-guide","size_guide_image":"\/\/cdn.shopify.com\/s\/files\/1\/2097\/1975\/files\/womens-plus-AOW-size-guide.jpg?v=1620935297"}, {"size_guide_tag":"mens-tech-short-ii-size-guide","size_guide_image":"\/\/cdn.shopify.com\/s\/files\/1\/2097\/1975\/files\/mens-tech-short-ii-size-guide.jpg?v=1622822387"}, {"size_guide_tag":"mens-bold-textured-board-short-size-guide","size_guide_image":"\/\/cdn.shopify.com\/s\/files\/1\/2097\/1975\/files\/mens-bold-textured-board-short-size-guide.jpg?v=1622826330"}, {"size_guide_tag":"mens-free-comfort-stretch-short-size-guide","size_guide_image":"\/\/cdn.shopify.com\/s\/files\/1\/2097\/1975\/files\/mens-free-comfort-stretch-short-size-guide_ddeccf16-1a21-435f-91f6-0d2a88cfefe8.jpg?v=1622827324"}, {"size_guide_tag":"mens-kickback-microtech-pant-size-guide","size_guide_image":"\/\/cdn.shopify.com\/s\/files\/1\/2097\/1975\/files\/mens-kickback-microtech-pant-size-guide.jpg?v=1622826353"}, {"size_guide_tag":"mens-ridge-weave-trek-pant-size-guide","size_guide_image":"\/\/cdn.shopify.com\/s\/files\/1\/2097\/1975\/files\/mens-ridge-weave-trek-pant-size-guide.jpg?v=1622826364"}, {"size_guide_tag":"mens-rustic-woven-zip-off-cargo-pant-size-guide","size_guide_image":"\/\/cdn.shopify.com\/s\/files\/1\/2097\/1975\/files\/mens-rustic-woven-zip-off-cargo-pant-size-guide.jpg?v=1622826374"}, {"size_guide_tag":"mens-stretch-active-poplin-trek-cargo-short-size-guide","size_guide_image":"\/\/cdn.shopify.com\/s\/files\/1\/2097\/1975\/files\/mens-stretch-active-poplin-trek-cargo-short-size-guide_f3f9521e-0fca-42c7-9256-a8e287e546b3.jpg?v=1622826391"}, {"size_guide_tag":"mens-textured-board-short-size-guide","size_guide_image":"\/\/cdn.shopify.com\/s\/files\/1\/2097\/1975\/files\/mens-textured-board-short-size-guide.jpg?v=1622826403"}, {"size_guide_tag":"womens-base-layer-size-guide","size_guide_image":"\/\/cdn.shopify.com\/s\/files\/1\/2097\/1975\/files\/womens-base-layer-size-guide.jpg?v=1632149919"}, {"size_guide_tag":"mens-base-layer-size-guide","size_guide_image":"\/\/cdn.shopify.com\/s\/files\/1\/2097\/1975\/files\/mens-base-layer-size-guide.jpg?v=1632149933"} ]
Women's Shale Super Softshell® Jacket
This slick softshell is all the defense you need for rough weather days. Our signature three layer fabric bonds a water repellent membrane between a weather resistant exterior and soft Butter Pile® lining. Flattering stitching and flange detailing elevate the classic styling. A detachable hood and attached storm cuffs lend added protection from the wind and rain.
Three layer bonded fabric consisting of:

Poly spandex blend of high denier yarns
Water resistant membrane
Butter Pile® interior lining

Machine washable
Length from Center Back:

S – 26"
M – 26.5"
L – 27"
XL – 27.5"

Wind resistant
Water resistant
Four-way stretch
Detachable drawcord adjustable hood
Full zip front closure
Sleeve zipper pocket
Storm cuffs with thumbholes
Back flange detail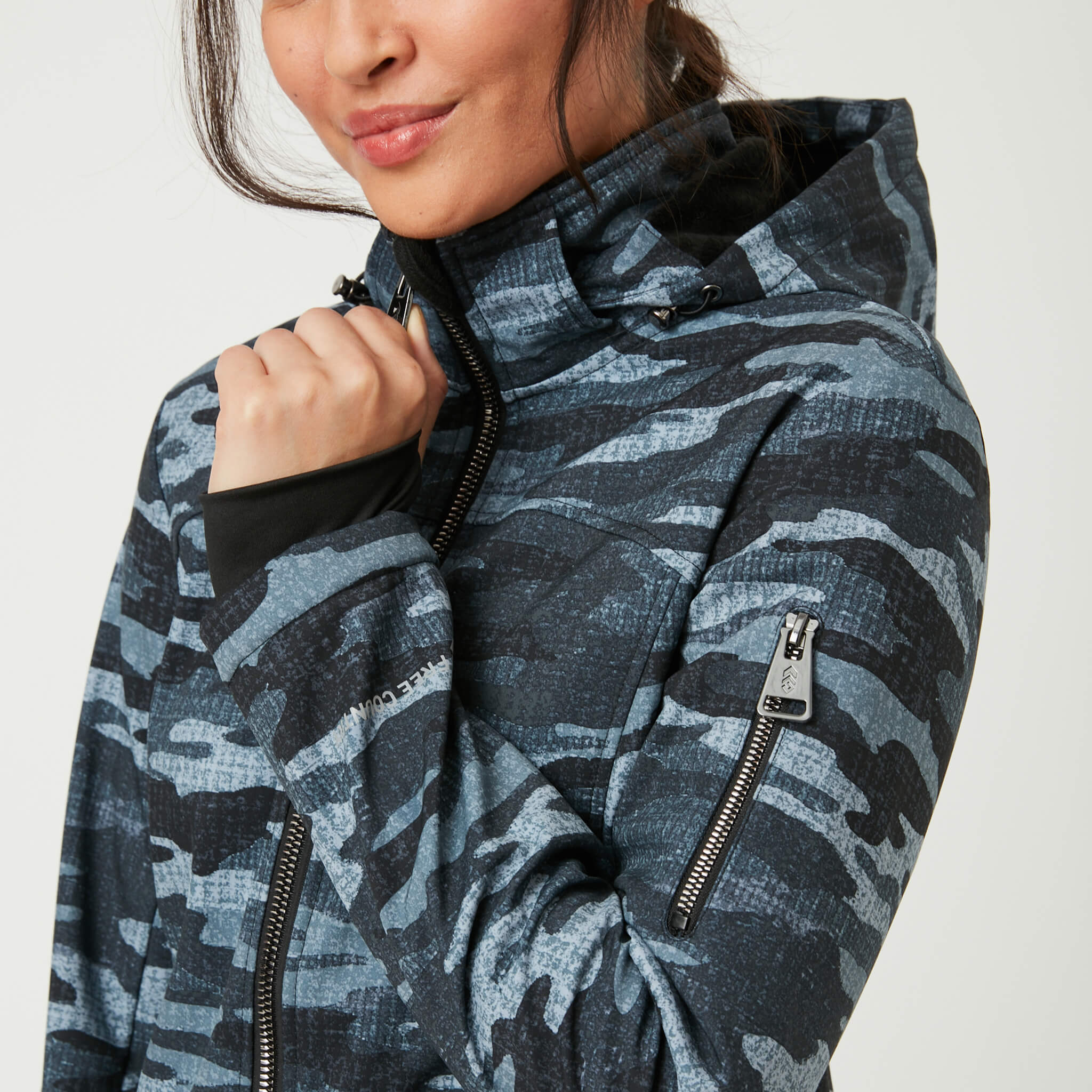 What is Super Softshell®?
The ultimate all-weather jacket you'll wear in any season.
Our premier Super Softshell® uses the finest yarns to create our softest most comfortable performance fabric yet. This three layer fabric has a water resistant membrane bonded to our plush Butter Pile® combining the ultimate in function and comfort.
30 Years in the Making
1
QUALITY
At Free Country we are not trendy. We are trend right. Our products are designed to be long lasting, functional and styled well.
2
VALUE
Our products have withstood the test of time. Our goal is to equip our community with everyday products that over deliver and over perform at a price that might surprise you.
3
TRUST
For 30 years, we have tested, developed and created long lasting products that have earned the trust of our community. We are confident we can continue to do this for the 30 years to come!