Women's Bermuda Board Short II
A more modern fit, shorter inseam and more tapered leg, than the original Bermuda Board Short.  If you like a looser fit, we recommend sizing up. Product Details
{"product_form_footer_1":"\u003cp\u003eFree Shipping For Orders Over $50\u003c\/p\u003e","product_form_footer_2":""}
[ {"size_guide_tag":"womens-outerwear-size-guide","size_guide_image":"\/\/cdn.shopify.com\/s\/files\/1\/2097\/1975\/files\/womens-outerwear-size-guide.jpg?v=1517023290"}, {"size_guide_tag":"womens-swim-size-guide","size_guide_image":"\/\/cdn.shopify.com\/s\/files\/1\/2097\/1975\/files\/Updated-Womens-Swim-Size-Guide.jpg?v=1517023337"}, {"size_guide_tag":"girls-size-guide","size_guide_image":"\/\/cdn.shopify.com\/s\/files\/1\/2097\/1975\/files\/Girls-Size-Guide.jpg?v=1517023316"}, {"size_guide_tag":"kids-glove-size-guide","size_guide_image":"\/\/cdn.shopify.com\/s\/files\/1\/2097\/1975\/files\/Fall_2016_Kids_Gloves.jpg?v=1517023316"}, {"size_guide_tag":"kids-glove-size-guide-2015","size_guide_image":"\/\/cdn.shopify.com\/s\/files\/1\/2097\/1975\/files\/Kids-Gloves-Chart-2015.jpg?v=1517023316"}, {"size_guide_tag":"mens-and-womens-gloves","size_guide_image":"\/\/cdn.shopify.com\/s\/files\/1\/2097\/1975\/files\/Men-Women-Gloves-SM_-LXL.jpg?v=1517023316"}, {"size_guide_tag":"mens-size-guide-with-b\u0026t","size_guide_image":"\/\/cdn.shopify.com\/s\/files\/1\/2097\/1975\/files\/mens-size-guide-with-b_t_8cb380a6-3e10-4c8b-ade0-d848d9650297.jpg?v=1519851280"}, {"size_guide_tag":"womens-petite-size-guide","size_guide_image":"\/\/cdn.shopify.com\/s\/files\/1\/2097\/1975\/files\/Women_s_PETITE_size_guide_656647d1-013e-46fd-bb7a-d706a7ee234b.jpg?v=1517023337"}, {"size_guide_tag":"womens-plus-swim-size-guide","size_guide_image":"\/\/cdn.shopify.com\/s\/files\/1\/2097\/1975\/files\/New-Plus-Size-Swim-Size-Guide_8ccdff1b-7dab-4341-8ec8-c0fffbd6d6f5.jpg?v=1517023337"}, {"size_guide_tag":"womens-plus-outerwear-size-guide","size_guide_image":"\/\/cdn.shopify.com\/s\/files\/1\/2097\/1975\/files\/Womens-Outerwear-PLUS-Size-Guide---2014_440dbddc-498e-4612-a47f-d23d0c8d9b70.jpg?v=1517023337"}, {"size_guide_tag":"boys-size-guide","size_guide_image":"\/\/cdn.shopify.com\/s\/files\/1\/2097\/1975\/files\/Boys-Size-guide_b7f4f85a-d3ea-4c0f-873b-ab023e8f4166.jpg?v=1517023337"}, {"size_guide_tag":"boys-size-guide-little","size_guide_image":"\/\/cdn.shopify.com\/s\/files\/1\/2097\/1975\/files\/Boys-Size-guide-LITTLE_5350b69a-5540-4a65-9ea0-d2881692ff5a.jpg?v=1517023337"}, {"size_guide_tag":"girls-size-guide-little","size_guide_image":"\/\/cdn.shopify.com\/s\/files\/1\/2097\/1975\/files\/Girls-Size-Guide-LITTLE_4cc268b5-6053-4384-9b9e-276f5b5920b3.jpg?v=1517023337"}, {"size_guide_tag":"girls-windbreaker-size-guide","size_guide_image":"\/\/cdn.shopify.com\/s\/files\/1\/2097\/1975\/files\/girls-windbreaker-size-guide.jpg?v=1517023337"}, {"size_guide_tag":"girls-swim-size-guide","size_guide_image":"\/\/cdn.shopify.com\/s\/files\/1\/2097\/1975\/files\/Girls-Swim-Size-Guide_fc2f9e6b-8482-4cb3-b986-b62186f68ab3.jpg?v=1517023337"}, {"size_guide_tag":"boys-swim-size-guide-costco","size_guide_image":"\/\/cdn.shopify.com\/s\/files\/1\/2097\/1975\/files\/Boys-costco.jpg?v=1517023337"}, {"size_guide_tag":"kids-size-guide-sams","size_guide_image":"\/\/cdn.shopify.com\/s\/files\/1\/2097\/1975\/files\/Big_and_Little_Kids_Size_Chart_-_Sams_ede0e12b-3094-4b7f-bf43-dacd9ea04eff.jpg?v=1517023399"}, {"size_guide_tag":"kids-size-guide-toddler","size_guide_image":"\/\/cdn.shopify.com\/s\/files\/1\/2097\/1975\/files\/Toddler_size_guide.jpg?v=1517023399"}, {"size_guide_tag":"boys-windbreaker-size-guide","size_guide_image":"\/\/cdn.shopify.com\/s\/files\/1\/2097\/1975\/files\/Boys_windbreaker_size_guide_-_pricesmart_538cb3dd-08b4-46f0-ac61-3925462b1ede.jpg?v=1517023406"}, {"size_guide_tag":"girls-down-size-guide","size_guide_image":"\/\/cdn.shopify.com\/s\/files\/1\/2097\/1975\/files\/Girls-Specular-Down-Size-Guide_049aa289-be22-44a8-8ee3-2764cfb549db.jpg?v=1509396996"}, {"size_guide_tag":"men-women-glove-size-guide-2017","size_guide_image":"\/\/cdn.shopify.com\/s\/files\/1\/2097\/1975\/files\/Adult_Gloves_Size_Guide_-_2017.jpg?v=1509552630"}, {"size_guide_tag":"boys-glove-size-guide-2017","size_guide_image":"\/\/cdn.shopify.com\/s\/files\/1\/2097\/1975\/files\/Boys_Gloves_Size_Guide_-_2017.jpg?v=1509552650"}, {"size_guide_tag":"girls-glove-size-guide-2017","size_guide_image":"\/\/cdn.shopify.com\/s\/files\/1\/2097\/1975\/files\/Girls_Gloves_Size_Guide_-_2017.jpg?v=1509552666"}, {"size_guide_tag":"dog-jacket-size-guide","size_guide_image":"\/\/cdn.shopify.com\/s\/files\/1\/2097\/1975\/files\/Dog_Size_Chart-01.jpg?v=1513005572"}, {"size_guide_tag":"boys-costco-size-guide","size_guide_image":"\/\/cdn.shopify.com\/s\/files\/1\/2097\/1975\/files\/boys-costco-size-guide.jpg?v=1535644385"}, {"size_guide_tag":"girls-costco-size-guide","size_guide_image":"\/\/cdn.shopify.com\/s\/files\/1\/2097\/1975\/files\/girls-costco-size-guide.jpg?v=1535644425"}, {"size_guide_tag":"free2b-size-guide","size_guide_image":"\/\/cdn.shopify.com\/s\/files\/1\/2097\/1975\/files\/free2b-size-guide.jpg?v=1539199007"}, {"size_guide_tag":"mens-active-size-guide","size_guide_image":"\/\/cdn.shopify.com\/s\/files\/1\/2097\/1975\/files\/mens-active-size-guide.jpg?v=1539199028"}, {"size_guide_tag":"boys-sock-size-guide","size_guide_image":"\/\/cdn.shopify.com\/s\/files\/1\/2097\/1975\/files\/boys-sock-size-guide.jpg?v=1541614345"}, {"size_guide_tag":"girls-sock-size-guide","size_guide_image":"\/\/cdn.shopify.com\/s\/files\/1\/2097\/1975\/files\/girls-sock-size-guide.jpg?v=1541614358"}, {"size_guide_tag":"mens-ski-pant-size-guide","size_guide_image":"\/\/cdn.shopify.com\/s\/files\/1\/2097\/1975\/files\/mens-ski-pant-size-guide.jpg?v=1560196284"}, {"size_guide_tag":"womens-ski-pant-size-guide","size_guide_image":"\/\/cdn.shopify.com\/s\/files\/1\/2097\/1975\/files\/ladies-ski-pant-size-guide.jpg?v=1560196300"}, {"size_guide_tag":"womens-bermuda-board-short-size-guide","size_guide_image":"\/\/cdn.shopify.com\/s\/files\/1\/2097\/1975\/files\/womens-bermuda-board-short-size-guide_487ae7ee-d6a2-4d1a-9654-01f0032574a4.jpg?v=1619800856"}, {"size_guide_tag":"womens-bermuda-board-short-ii-size-guide","size_guide_image":"\/\/cdn.shopify.com\/s\/files\/1\/2097\/1975\/files\/womens-bermuda-board-short-ii-size-guide_ad0b6652-58ef-431c-a1db-2c35b2fb727e.jpg?v=1619800874"}, {"size_guide_tag":"womens-plus-size-bermuda-board-short-ii-size-guide","size_guide_image":"\/\/cdn.shopify.com\/s\/files\/1\/2097\/1975\/files\/womens-plus-size-bermuda-board-short-ii-size-guide_0c27cd55-0d5c-4f3f-b07c-6fcf80b59a10.jpg?v=1619800901"}, {"size_guide_tag":"womens-plus-size-bermuda-board-short-size-guide","size_guide_image":"\/\/cdn.shopify.com\/s\/files\/1\/2097\/1975\/files\/womens-plus-size-bermuda-board-short-size-guide_b0d0fee3-77be-4a54-b7f6-e79b62a4700a.jpg?v=1619800918"}, {"size_guide_tag":"womens-wrap-swim-skirt-size-guide","size_guide_image":"\/\/cdn.shopify.com\/s\/files\/1\/2097\/1975\/files\/womens-wrap-swim-skirt-size-guide.jpg?v=1619801159"}, {"size_guide_tag":"womens-plus-size-wrap-swim-skirt-size-guide","size_guide_image":"\/\/cdn.shopify.com\/s\/files\/1\/2097\/1975\/files\/womens-plus-size-wrap-swim-skirt-size-guide.jpg?v=1619801223"}, {"size_guide_tag":"womens-boy-short-size-guide","size_guide_image":"\/\/cdn.shopify.com\/s\/files\/1\/2097\/1975\/files\/womens-boy-short-size-guide.jpg?v=1619801382"}, {"size_guide_tag":"womens-drawstring-swim-short-size-guide","size_guide_image":"\/\/cdn.shopify.com\/s\/files\/1\/2097\/1975\/files\/womens-drawstring-swim-short-size-guide.jpg?v=1619801544"}, {"size_guide_tag":"womens-plus-size-drawstring-swim-short-size-guide","size_guide_image":"\/\/cdn.shopify.com\/s\/files\/1\/2097\/1975\/files\/womens-plus-size-drawstring-swim-short-size-guide.jpg?v=1619801678"}, {"size_guide_tag":"womens-jean-swim-short-size-guide","size_guide_image":"\/\/cdn.shopify.com\/s\/files\/1\/2097\/1975\/files\/womens-jean-swim-short-size-guide.jpg?v=1619801802"}, {"size_guide_tag":"womens-mesh-detail-swim-short-size-guide","size_guide_image":"\/\/cdn.shopify.com\/s\/files\/1\/2097\/1975\/files\/womens-mesh-detail-swim-short-size-guide.jpg?v=1619802461"}, {"size_guide_tag":"womens-plus-size-mesh-detail-swim-short-size-guide","size_guide_image":"\/\/cdn.shopify.com\/s\/files\/1\/2097\/1975\/files\/womens-plus-size-mesh-detail-swim-short-size-guide.jpg?v=1619802524"}, {"size_guide_tag":"womens-petal-opening-drawstring-swim-short-size-guide","size_guide_image":"\/\/cdn.shopify.com\/s\/files\/1\/2097\/1975\/files\/womens-petal-opening-drawstring-swim-short-size-guide.jpg?v=1619802646"}, {"size_guide_tag":"womens-woven-stretch-cargo-short-size-guide","size_guide_image":"\/\/cdn.shopify.com\/s\/files\/1\/2097\/1975\/files\/womens-woven-stretch-cargo-short-size-guide.jpg?v=1619802828"}, {"size_guide_tag":"womens-plus-size-woven-stretch-cargo-short-size-guide","size_guide_image":"\/\/cdn.shopify.com\/s\/files\/1\/2097\/1975\/files\/womens-plus-size-woven-stretch-cargo-short-size-guide.jpg?v=1619802965"}, {"size_guide_tag":"womens-woven-stretch-swim-short-size-guide","size_guide_image":"\/\/cdn.shopify.com\/s\/files\/1\/2097\/1975\/files\/womens-woven-stretch-swim-short-size-guide.jpg?v=1619803094"}, {"size_guide_tag":"womens-plus-size-woven-stretch-swim-short-size-guide","size_guide_image":"\/\/cdn.shopify.com\/s\/files\/1\/2097\/1975\/files\/womens-plus-size-woven-stretch-swim-short-size-guide.jpg?v=1619803164"}, {"size_guide_tag":"womens-drawstring-swim-skirt-size-guide","size_guide_image":"\/\/cdn.shopify.com\/s\/files\/1\/2097\/1975\/files\/womens-drawstring-swim-skirt-size-guide.jpg?v=1619803587"}, {"size_guide_tag":"womens-plus-size-drawstring-swim-skirt-size-guide","size_guide_image":"\/\/cdn.shopify.com\/s\/files\/1\/2097\/1975\/files\/womens-plus-size-drawstring-swim-skirt-size-guide.jpg?v=1619803671"}, {"size_guide_tag":"womens-plus-size-drawcord-swim-skirt-size-guide","size_guide_image":"\/\/cdn.shopify.com\/s\/files\/1\/2097\/1975\/files\/womens-plus-size-drawcord-swim-skirt-size-guide.jpg?v=1619803766"}, {"size_guide_tag":"womens-side-shirred-skirt-size-guide","size_guide_image":"\/\/cdn.shopify.com\/s\/files\/1\/2097\/1975\/files\/womens-side-shirred-skirt-size-guide.jpg?v=1619803905"}, {"size_guide_tag":"womens-plus-size-side-shirred-skirt-size-guide","size_guide_image":"\/\/cdn.shopify.com\/s\/files\/1\/2097\/1975\/files\/womens-plus-size-side-shirred-skirt-size-guide.jpg?v=1619803968"}, {"size_guide_tag":"missy-tankini-size-guide","size_guide_image":"\/\/cdn.shopify.com\/s\/files\/1\/2097\/1975\/files\/missy-tankini-size-guide.jpg?v=1619804020"}, {"size_guide_tag":"plus-tankini-size-guide","size_guide_image":"\/\/cdn.shopify.com\/s\/files\/1\/2097\/1975\/files\/plus-tankini-size-guide.jpg?v=1619804034"}, {"size_guide_tag":"mens-AOW-size-guide","size_guide_image":"\/\/cdn.shopify.com\/s\/files\/1\/2097\/1975\/files\/mens-AOW-size-guide.jpg?v=1620935243"}, {"size_guide_tag":"mens-big-and-tall-size-guide","size_guide_image":"\/\/cdn.shopify.com\/s\/files\/1\/2097\/1975\/files\/mens-big-and-tall-size-guide.jpg?v=1620935263"}, {"size_guide_tag":"womens-AOW-size-guide","size_guide_image":"\/\/cdn.shopify.com\/s\/files\/1\/2097\/1975\/files\/womens-AOW-size-guide.jpg?v=1620935281"}, {"size_guide_tag":"womens-plus-AOW-size-guide","size_guide_image":"\/\/cdn.shopify.com\/s\/files\/1\/2097\/1975\/files\/womens-plus-AOW-size-guide.jpg?v=1620935297"}, {"size_guide_tag":"mens-tech-short-ii-size-guide","size_guide_image":"\/\/cdn.shopify.com\/s\/files\/1\/2097\/1975\/files\/mens-tech-short-ii-size-guide.jpg?v=1622822387"}, {"size_guide_tag":"mens-bold-textured-board-short-size-guide","size_guide_image":"\/\/cdn.shopify.com\/s\/files\/1\/2097\/1975\/files\/mens-bold-textured-board-short-size-guide.jpg?v=1622826330"}, {"size_guide_tag":"mens-free-comfort-stretch-short-size-guide","size_guide_image":"\/\/cdn.shopify.com\/s\/files\/1\/2097\/1975\/files\/mens-free-comfort-stretch-short-size-guide_ddeccf16-1a21-435f-91f6-0d2a88cfefe8.jpg?v=1622827324"}, {"size_guide_tag":"mens-kickback-microtech-pant-size-guide","size_guide_image":"\/\/cdn.shopify.com\/s\/files\/1\/2097\/1975\/files\/mens-kickback-microtech-pant-size-guide.jpg?v=1622826353"}, {"size_guide_tag":"mens-ridge-weave-trek-pant-size-guide","size_guide_image":"\/\/cdn.shopify.com\/s\/files\/1\/2097\/1975\/files\/mens-ridge-weave-trek-pant-size-guide.jpg?v=1622826364"}, {"size_guide_tag":"mens-rustic-woven-zip-off-cargo-pant-size-guide","size_guide_image":"\/\/cdn.shopify.com\/s\/files\/1\/2097\/1975\/files\/mens-rustic-woven-zip-off-cargo-pant-size-guide.jpg?v=1622826374"}, {"size_guide_tag":"mens-stretch-active-poplin-trek-cargo-short-size-guide","size_guide_image":"\/\/cdn.shopify.com\/s\/files\/1\/2097\/1975\/files\/mens-stretch-active-poplin-trek-cargo-short-size-guide_f3f9521e-0fca-42c7-9256-a8e287e546b3.jpg?v=1622826391"}, {"size_guide_tag":"mens-textured-board-short-size-guide","size_guide_image":"\/\/cdn.shopify.com\/s\/files\/1\/2097\/1975\/files\/mens-textured-board-short-size-guide.jpg?v=1622826403"}, {"size_guide_tag":"womens-base-layer-size-guide","size_guide_image":"\/\/cdn.shopify.com\/s\/files\/1\/2097\/1975\/files\/womens-base-layer-size-guide.jpg?v=1632149919"}, {"size_guide_tag":"mens-base-layer-size-guide","size_guide_image":"\/\/cdn.shopify.com\/s\/files\/1\/2097\/1975\/files\/mens-base-layer-size-guide.jpg?v=1632149933"} ]
Women's Bermuda Board Short II
Need to grab a drink while at the beach or run a quick errand after lounging at the pool? Our all-time fan favorite Bermuda Short makes for the perfect cover-up or full coverage swim bottom. With revamped styling, these shorts will have you ready for any warm-weather excursion. Ultra-lightweight and breathable fabric dries quickly, making it perfect for the transition from beach to street. The updated petal hem keeps the fit flattering while maintaining coverage, with zipper close pockets for safe storage. You'll want to wear these shorts all summer long!
93% Polyester, 7% Spandex
Machine washable
Inseam: 10"
Lightweight
Quick dry fabric
Two front zippered pockets
Zip front fly
Adjustable waist tie
Petal hem leg opening
Rivets that allow for quicker water drainage and faster drying after water activities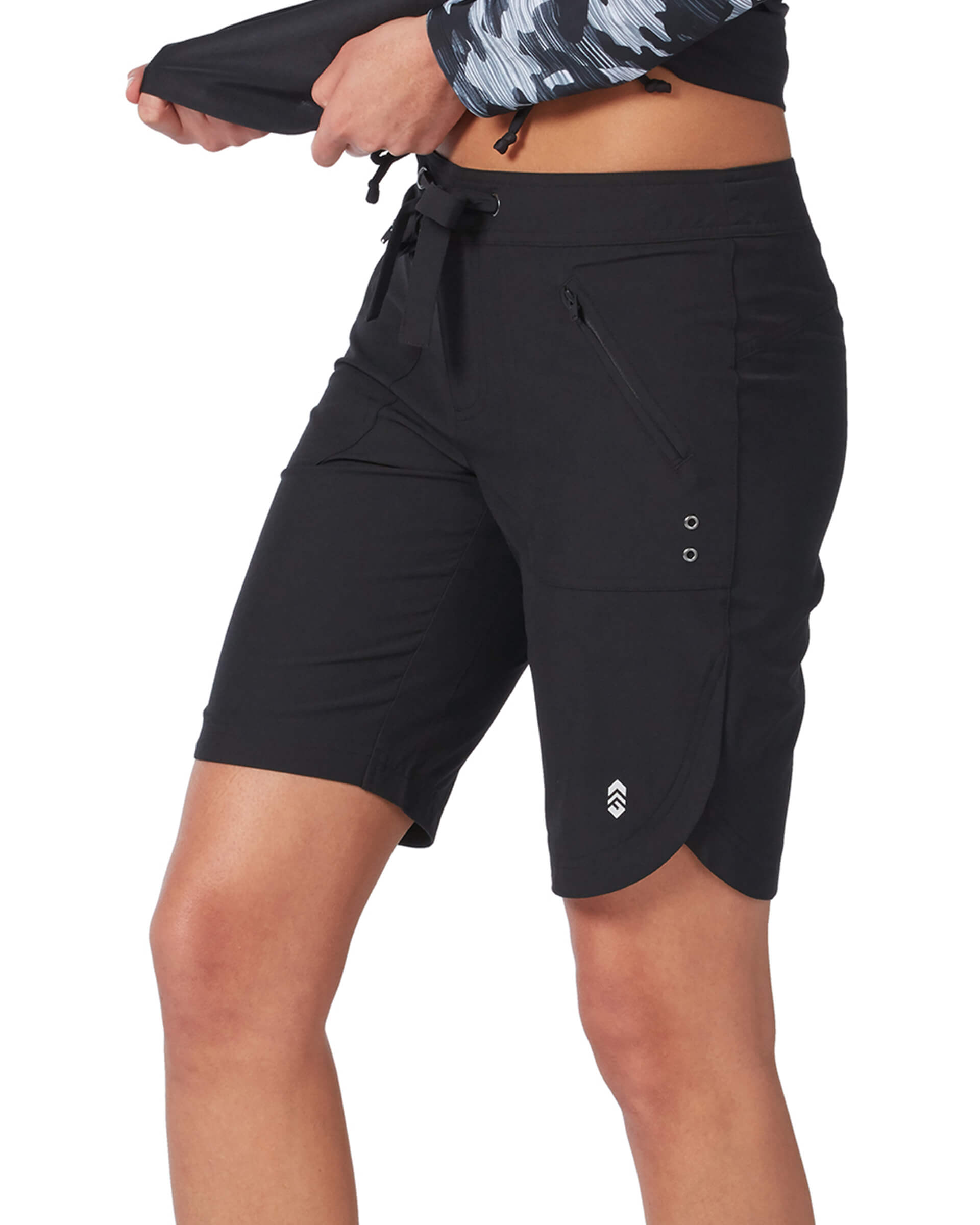 30 Years in the Making
1
QUALITY
At Free Country we are not trendy. We are trend right. Our products are designed to be long lasting, functional and styled well.
2
VALUE
Our products have withstood the test of time. Our goal is to equip our community with everyday products that over deliver and over perform at a price that might surprise you.
3
TRUST
For 30 years, we have tested, developed and created long lasting products that have earned the trust of our community. We are confident we can continue to do this for the 30 years to come!