Women's Plus Size Crystal Gem Flyaway Tankini Top
{"product_form_footer_1":"\u003cp\u003eFree Shipping For Orders Over $50\u003c\/p\u003e\n\u003cp\u003e\u003c\/p\u003e\n\u003cp\u003eFor Corporate or Bulk Orders Please Contact \u003ca href=\"https:\/\/docs.google.com\/forms\/d\/e\/1FAIpQLSd1N8JRqiVNxoz7BvL-e-3xIr4MVH4379JWjeypE8v-O-QMLg\/viewform\" target=\"_blank\"\u003esales@freecountry.com\u003c\/a\u003e\u003c\/p\u003e","product_form_footer_1_image":null,"product_form_footer_2":"","product_form_footer_2_image":null}
[ {"size_guide_tag":"womens-outerwear-size-guide","size_guide_image":"\/\/cdn.shopify.com\/s\/files\/1\/2097\/1975\/files\/womens-outerwear-size-guide.jpg?v=1517023290"}, {"size_guide_tag":"womens-swim-size-guide","size_guide_image":"\/\/cdn.shopify.com\/s\/files\/1\/2097\/1975\/files\/Updated-Womens-Swim-Size-Guide.jpg?v=1517023337"}, {"size_guide_tag":"girls-size-guide","size_guide_image":"\/\/cdn.shopify.com\/s\/files\/1\/2097\/1975\/files\/Girls-Size-Guide.jpg?v=1517023316"}, {"size_guide_tag":"kids-glove-size-guide","size_guide_image":"\/\/cdn.shopify.com\/s\/files\/1\/2097\/1975\/files\/Fall_2016_Kids_Gloves.jpg?v=1517023316"}, {"size_guide_tag":"kids-glove-size-guide-2015","size_guide_image":"\/\/cdn.shopify.com\/s\/files\/1\/2097\/1975\/files\/Kids-Gloves-Chart-2015.jpg?v=1517023316"}, {"size_guide_tag":"mens-and-womens-gloves","size_guide_image":"\/\/cdn.shopify.com\/s\/files\/1\/2097\/1975\/files\/Men-Women-Gloves-SM_-LXL.jpg?v=1517023316"}, {"size_guide_tag":"mens-size-guide-with-b\u0026t","size_guide_image":"\/\/cdn.shopify.com\/s\/files\/1\/2097\/1975\/files\/mens-size-guide-with-b_t_8cb380a6-3e10-4c8b-ade0-d848d9650297.jpg?v=1519851280"}, {"size_guide_tag":"womens-petite-size-guide","size_guide_image":"\/\/cdn.shopify.com\/s\/files\/1\/2097\/1975\/files\/Women_s_PETITE_size_guide_656647d1-013e-46fd-bb7a-d706a7ee234b.jpg?v=1517023337"}, {"size_guide_tag":"womens-plus-swim-size-guide","size_guide_image":"\/\/cdn.shopify.com\/s\/files\/1\/2097\/1975\/files\/New-Plus-Size-Swim-Size-Guide_8ccdff1b-7dab-4341-8ec8-c0fffbd6d6f5.jpg?v=1517023337"}, {"size_guide_tag":"womens-plus-outerwear-size-guide","size_guide_image":"\/\/cdn.shopify.com\/s\/files\/1\/2097\/1975\/files\/Womens-Outerwear-PLUS-Size-Guide---2014_440dbddc-498e-4612-a47f-d23d0c8d9b70.jpg?v=1517023337"}, {"size_guide_tag":"boys-size-guide","size_guide_image":"\/\/cdn.shopify.com\/s\/files\/1\/2097\/1975\/files\/Boys-Size-guide_b7f4f85a-d3ea-4c0f-873b-ab023e8f4166.jpg?v=1517023337"}, {"size_guide_tag":"boys-size-guide-little","size_guide_image":"\/\/cdn.shopify.com\/s\/files\/1\/2097\/1975\/files\/Boys-Size-guide-LITTLE_5350b69a-5540-4a65-9ea0-d2881692ff5a.jpg?v=1517023337"}, {"size_guide_tag":"girls-size-guide-little","size_guide_image":"\/\/cdn.shopify.com\/s\/files\/1\/2097\/1975\/files\/Girls-Size-Guide-LITTLE_4cc268b5-6053-4384-9b9e-276f5b5920b3.jpg?v=1517023337"}, {"size_guide_tag":"girls-windbreaker-size-guide","size_guide_image":"\/\/cdn.shopify.com\/s\/files\/1\/2097\/1975\/files\/girls-windbreaker-size-guide.jpg?v=1517023337"}, {"size_guide_tag":"girls-swim-size-guide","size_guide_image":"\/\/cdn.shopify.com\/s\/files\/1\/2097\/1975\/files\/Girls-Swim-Size-Guide_fc2f9e6b-8482-4cb3-b986-b62186f68ab3.jpg?v=1517023337"}, {"size_guide_tag":"boys-swim-size-guide-costco","size_guide_image":"\/\/cdn.shopify.com\/s\/files\/1\/2097\/1975\/files\/Boys-costco.jpg?v=1517023337"}, {"size_guide_tag":"kids-size-guide-sams","size_guide_image":"\/\/cdn.shopify.com\/s\/files\/1\/2097\/1975\/files\/Big_and_Little_Kids_Size_Chart_-_Sams_ede0e12b-3094-4b7f-bf43-dacd9ea04eff.jpg?v=1517023399"}, {"size_guide_tag":"kids-size-guide-toddler","size_guide_image":"\/\/cdn.shopify.com\/s\/files\/1\/2097\/1975\/files\/Toddler_size_guide.jpg?v=1517023399"}, {"size_guide_tag":"boys-windbreaker-size-guide","size_guide_image":"\/\/cdn.shopify.com\/s\/files\/1\/2097\/1975\/files\/Boys_windbreaker_size_guide_-_pricesmart_538cb3dd-08b4-46f0-ac61-3925462b1ede.jpg?v=1517023406"}, {"size_guide_tag":"girls-down-size-guide","size_guide_image":"\/\/cdn.shopify.com\/s\/files\/1\/2097\/1975\/files\/Girls-Specular-Down-Size-Guide_049aa289-be22-44a8-8ee3-2764cfb549db.jpg?v=1509396996"}, {"size_guide_tag":"men-women-glove-size-guide-2017","size_guide_image":"\/\/cdn.shopify.com\/s\/files\/1\/2097\/1975\/files\/Adult_Gloves_Size_Guide_-_2017.jpg?v=1509552630"}, {"size_guide_tag":"boys-glove-size-guide-2017","size_guide_image":"\/\/cdn.shopify.com\/s\/files\/1\/2097\/1975\/files\/Boys_Gloves_Size_Guide_-_2017.jpg?v=1509552650"}, {"size_guide_tag":"girls-glove-size-guide-2017","size_guide_image":"\/\/cdn.shopify.com\/s\/files\/1\/2097\/1975\/files\/Girls_Gloves_Size_Guide_-_2017.jpg?v=1509552666"}, {"size_guide_tag":"dog-jacket-size-guide","size_guide_image":"\/\/cdn.shopify.com\/s\/files\/1\/2097\/1975\/files\/Dog_Size_Chart-01.jpg?v=1513005572"}, {"size_guide_tag":"boys-costco-size-guide","size_guide_image":"\/\/cdn.shopify.com\/s\/files\/1\/2097\/1975\/files\/boys-costco-size-guide.jpg?v=1535644385"}, {"size_guide_tag":"girls-costco-size-guide","size_guide_image":"\/\/cdn.shopify.com\/s\/files\/1\/2097\/1975\/files\/girls-costco-size-guide.jpg?v=1535644425"}, {"size_guide_tag":"free2b-size-guide","size_guide_image":"\/\/cdn.shopify.com\/s\/files\/1\/2097\/1975\/files\/free2b-size-guide.jpg?v=1539199007"}, {"size_guide_tag":"mens-active-size-guide","size_guide_image":"\/\/cdn.shopify.com\/s\/files\/1\/2097\/1975\/files\/mens-active-size-guide.jpg?v=1539199028"}, {"size_guide_tag":"boys-sock-size-guide","size_guide_image":"\/\/cdn.shopify.com\/s\/files\/1\/2097\/1975\/files\/boys-sock-size-guide.jpg?v=1541614345"}, {"size_guide_tag":"girls-sock-size-guide","size_guide_image":"\/\/cdn.shopify.com\/s\/files\/1\/2097\/1975\/files\/girls-sock-size-guide.jpg?v=1541614358"}, {"size_guide_tag":"mens-ski-pant-size-guide","size_guide_image":"\/\/cdn.shopify.com\/s\/files\/1\/2097\/1975\/files\/mens-ski-pant-size-guide.jpg?v=1560196284"}, {"size_guide_tag":"womens-ski-pant-size-guide","size_guide_image":"\/\/cdn.shopify.com\/s\/files\/1\/2097\/1975\/files\/ladies-ski-pant-size-guide.jpg?v=1560196300"} ]
Women's Plus Size Crystal Gem Flyaway Tankini Top
Feel comfortable in your swimwear with this split front flyaway tankini top. Molded cups give you support while the drapey bodice covers up any insecurities, so you can show off without showing it all.
82% Nylon, 18% Spandex
Hand wash per instructions
Adjustable Straps
Set-in Molded Cups
Double strap detailing
Flyaway front with modest belly cover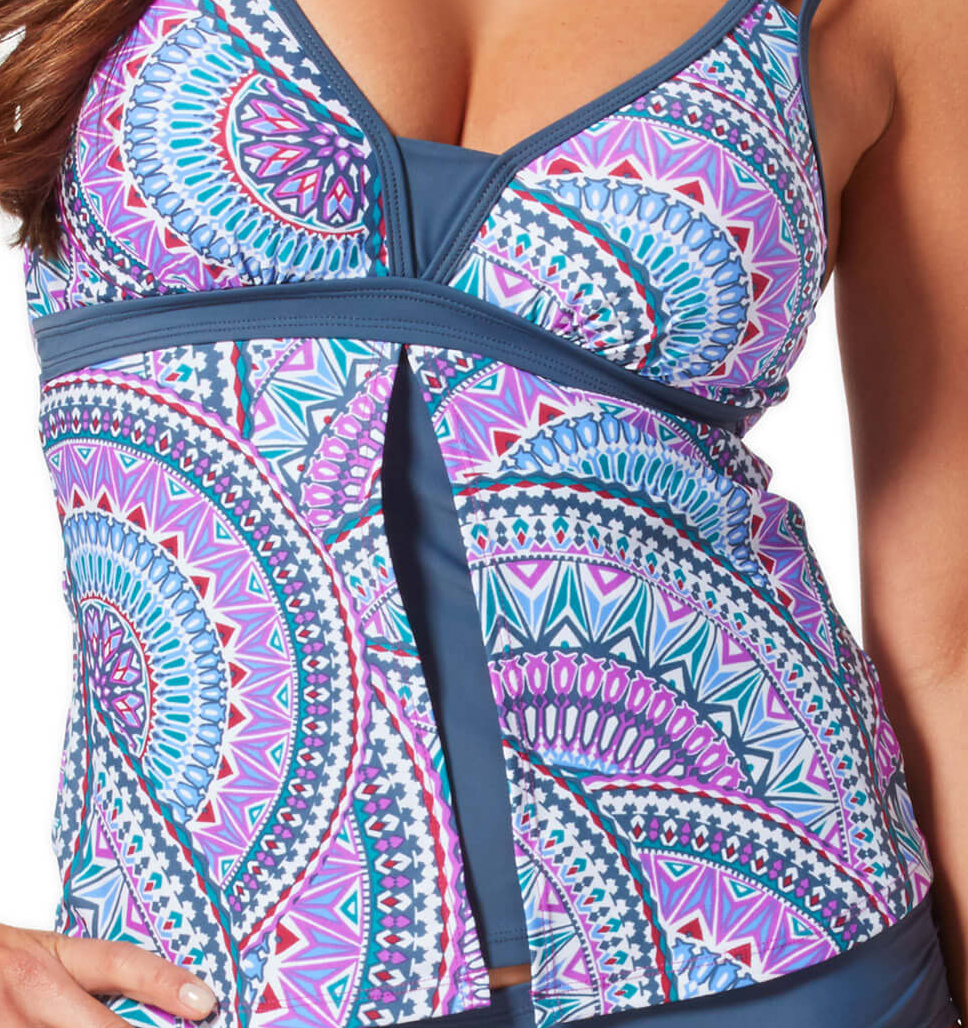 Living In It Since 1990
1
REAL VALUE
At Free Country we believe that value is much more than a great price, but includes the sum of all the parts that go into purchasing a quality product.
2
FASHION MEETS FUNCTION
There's no reason to sacrifice style for function, or vice versa. It's our mission to give you a product that not only looks great but performs at the highest level.
3
DO YOUR OWN THING
We believe that the world needs to stop taking life so seriously and #GetOutThere and have some fun, because, hey, it's a Free Country!