{"product_form_footer_1":"\u003cp\u003eFree Shipping For Orders Over $50\u003c\/p\u003e\n\u003cp\u003e\u003c\/p\u003e\n\u003cp\u003eFor Corporate or Bulk Orders Please Contact \u003ca href=\"https:\/\/docs.google.com\/forms\/d\/e\/1FAIpQLSd1N8JRqiVNxoz7BvL-e-3xIr4MVH4379JWjeypE8v-O-QMLg\/viewform\" target=\"_blank\"\u003esales@freecountry.com\u003c\/a\u003e\u003c\/p\u003e","product_form_footer_1_image":null,"product_form_footer_2":"","product_form_footer_2_image":null}
[ {"size_guide_tag":"womens-outerwear-size-guide","size_guide_image":"\/\/cdn.shopify.com\/s\/files\/1\/2097\/1975\/files\/womens-outerwear-size-guide.jpg?v=1517023290"}, {"size_guide_tag":"womens-swim-size-guide","size_guide_image":"\/\/cdn.shopify.com\/s\/files\/1\/2097\/1975\/files\/Updated-Womens-Swim-Size-Guide.jpg?v=1517023337"}, {"size_guide_tag":"girls-size-guide","size_guide_image":"\/\/cdn.shopify.com\/s\/files\/1\/2097\/1975\/files\/Girls-Size-Guide.jpg?v=1517023316"}, {"size_guide_tag":"kids-glove-size-guide","size_guide_image":"\/\/cdn.shopify.com\/s\/files\/1\/2097\/1975\/files\/Fall_2016_Kids_Gloves.jpg?v=1517023316"}, {"size_guide_tag":"kids-glove-size-guide-2015","size_guide_image":"\/\/cdn.shopify.com\/s\/files\/1\/2097\/1975\/files\/Kids-Gloves-Chart-2015.jpg?v=1517023316"}, {"size_guide_tag":"mens-and-womens-gloves","size_guide_image":"\/\/cdn.shopify.com\/s\/files\/1\/2097\/1975\/files\/Men-Women-Gloves-SM_-LXL.jpg?v=1517023316"}, {"size_guide_tag":"mens-size-guide-with-b\u0026t","size_guide_image":"\/\/cdn.shopify.com\/s\/files\/1\/2097\/1975\/files\/mens-size-guide-with-b_t_8cb380a6-3e10-4c8b-ade0-d848d9650297.jpg?v=1519851280"}, {"size_guide_tag":"womens-petite-size-guide","size_guide_image":"\/\/cdn.shopify.com\/s\/files\/1\/2097\/1975\/files\/Women_s_PETITE_size_guide_656647d1-013e-46fd-bb7a-d706a7ee234b.jpg?v=1517023337"}, {"size_guide_tag":"womens-plus-swim-size-guide","size_guide_image":"\/\/cdn.shopify.com\/s\/files\/1\/2097\/1975\/files\/New-Plus-Size-Swim-Size-Guide_8ccdff1b-7dab-4341-8ec8-c0fffbd6d6f5.jpg?v=1517023337"}, {"size_guide_tag":"womens-plus-outerwear-size-guide","size_guide_image":"\/\/cdn.shopify.com\/s\/files\/1\/2097\/1975\/files\/Womens-Outerwear-PLUS-Size-Guide---2014_440dbddc-498e-4612-a47f-d23d0c8d9b70.jpg?v=1517023337"}, {"size_guide_tag":"boys-size-guide","size_guide_image":"\/\/cdn.shopify.com\/s\/files\/1\/2097\/1975\/files\/Boys-Size-guide_b7f4f85a-d3ea-4c0f-873b-ab023e8f4166.jpg?v=1517023337"}, {"size_guide_tag":"boys-size-guide-little","size_guide_image":"\/\/cdn.shopify.com\/s\/files\/1\/2097\/1975\/files\/Boys-Size-guide-LITTLE_5350b69a-5540-4a65-9ea0-d2881692ff5a.jpg?v=1517023337"}, {"size_guide_tag":"girls-size-guide-little","size_guide_image":"\/\/cdn.shopify.com\/s\/files\/1\/2097\/1975\/files\/Girls-Size-Guide-LITTLE_4cc268b5-6053-4384-9b9e-276f5b5920b3.jpg?v=1517023337"}, {"size_guide_tag":"girls-windbreaker-size-guide","size_guide_image":"\/\/cdn.shopify.com\/s\/files\/1\/2097\/1975\/files\/girls-windbreaker-size-guide.jpg?v=1517023337"}, {"size_guide_tag":"girls-swim-size-guide","size_guide_image":"\/\/cdn.shopify.com\/s\/files\/1\/2097\/1975\/files\/Girls-Swim-Size-Guide_fc2f9e6b-8482-4cb3-b986-b62186f68ab3.jpg?v=1517023337"}, {"size_guide_tag":"boys-swim-size-guide-costco","size_guide_image":"\/\/cdn.shopify.com\/s\/files\/1\/2097\/1975\/files\/Boys-costco.jpg?v=1517023337"}, {"size_guide_tag":"kids-size-guide-sams","size_guide_image":"\/\/cdn.shopify.com\/s\/files\/1\/2097\/1975\/files\/Big_and_Little_Kids_Size_Chart_-_Sams_ede0e12b-3094-4b7f-bf43-dacd9ea04eff.jpg?v=1517023399"}, {"size_guide_tag":"kids-size-guide-toddler","size_guide_image":"\/\/cdn.shopify.com\/s\/files\/1\/2097\/1975\/files\/Toddler_size_guide.jpg?v=1517023399"}, {"size_guide_tag":"boys-windbreaker-size-guide","size_guide_image":"\/\/cdn.shopify.com\/s\/files\/1\/2097\/1975\/files\/Boys_windbreaker_size_guide_-_pricesmart_538cb3dd-08b4-46f0-ac61-3925462b1ede.jpg?v=1517023406"}, {"size_guide_tag":"girls-down-size-guide","size_guide_image":"\/\/cdn.shopify.com\/s\/files\/1\/2097\/1975\/files\/Girls-Specular-Down-Size-Guide_049aa289-be22-44a8-8ee3-2764cfb549db.jpg?v=1509396996"}, {"size_guide_tag":"men-women-glove-size-guide-2017","size_guide_image":"\/\/cdn.shopify.com\/s\/files\/1\/2097\/1975\/files\/Adult_Gloves_Size_Guide_-_2017.jpg?v=1509552630"}, {"size_guide_tag":"boys-glove-size-guide-2017","size_guide_image":"\/\/cdn.shopify.com\/s\/files\/1\/2097\/1975\/files\/Boys_Gloves_Size_Guide_-_2017.jpg?v=1509552650"}, {"size_guide_tag":"girls-glove-size-guide-2017","size_guide_image":"\/\/cdn.shopify.com\/s\/files\/1\/2097\/1975\/files\/Girls_Gloves_Size_Guide_-_2017.jpg?v=1509552666"}, {"size_guide_tag":"dog-jacket-size-guide","size_guide_image":"\/\/cdn.shopify.com\/s\/files\/1\/2097\/1975\/files\/Dog_Size_Chart-01.jpg?v=1513005572"}, {"size_guide_tag":"boys-costco-size-guide","size_guide_image":"\/\/cdn.shopify.com\/s\/files\/1\/2097\/1975\/files\/boys-costco-size-guide.jpg?v=1535644385"}, {"size_guide_tag":"girls-costco-size-guide","size_guide_image":"\/\/cdn.shopify.com\/s\/files\/1\/2097\/1975\/files\/girls-costco-size-guide.jpg?v=1535644425"}, {"size_guide_tag":"free2b-size-guide","size_guide_image":"\/\/cdn.shopify.com\/s\/files\/1\/2097\/1975\/files\/free2b-size-guide.jpg?v=1539199007"}, {"size_guide_tag":"mens-active-size-guide","size_guide_image":"\/\/cdn.shopify.com\/s\/files\/1\/2097\/1975\/files\/mens-active-size-guide.jpg?v=1539199028"}, {"size_guide_tag":"boys-sock-size-guide","size_guide_image":"\/\/cdn.shopify.com\/s\/files\/1\/2097\/1975\/files\/boys-sock-size-guide.jpg?v=1541614345"}, {"size_guide_tag":"girls-sock-size-guide","size_guide_image":"\/\/cdn.shopify.com\/s\/files\/1\/2097\/1975\/files\/girls-sock-size-guide.jpg?v=1541614358"}, {"size_guide_tag":"mens-ski-pant-size-guide","size_guide_image":"\/\/cdn.shopify.com\/s\/files\/1\/2097\/1975\/files\/mens-ski-pant-size-guide.jpg?v=1560196284"}, {"size_guide_tag":"womens-ski-pant-size-guide","size_guide_image":"\/\/cdn.shopify.com\/s\/files\/1\/2097\/1975\/files\/ladies-ski-pant-size-guide.jpg?v=1560196300"} ]
Men's Sweaterknit Glove
Keep warm from your fingers to your toes with this sweater knit glove. Match your favorite fleece with this ruggedly handsome glove.
Black sweaterknit with heather piecing
Brushed TR lining
Faux suede texting palm
Faux suede logo
Clip together at wrist
Thinsulate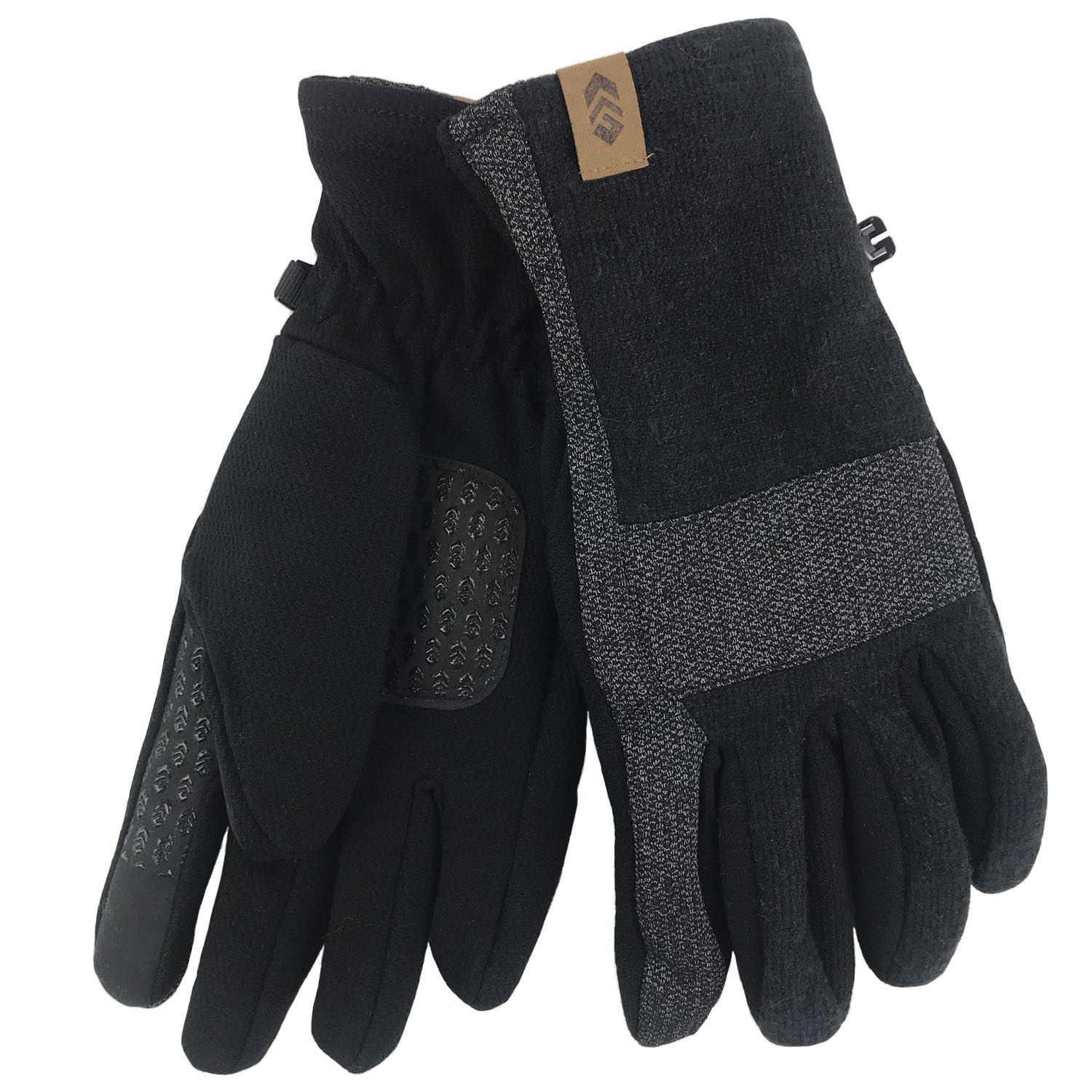 30 Years in the Making
1
QUALITY
At Free Country we are not trendy. We are trend right. Our products are designed to be long lasting, functional and styled well.
2
VALUE
Our products have withstood the test of time. Our goal is to equip our community with everyday products that over deliver and over perform at a price that might surprise you.
3
TRUST
For 30 years, we have tested, developed and created long lasting products that have earned the trust of our community. We are confident we can continue to do this for the 30 years to come!