Men's Cross Hatch 3-in-1 Systems Jacket
{"product_form_footer_1":"\u003cp\u003eFree Shipping For Orders Over $50\u003c\/p\u003e\n\u003cp\u003e\u003c\/p\u003e\n\u003cp\u003eFor Corporate or Bulk Orders Please Contact \u003ca href=\"https:\/\/docs.google.com\/forms\/d\/e\/1FAIpQLSd1N8JRqiVNxoz7BvL-e-3xIr4MVH4379JWjeypE8v-O-QMLg\/viewform\" target=\"_blank\"\u003esales@freecountry.com\u003c\/a\u003e\u003c\/p\u003e","product_form_footer_1_image":null,"product_form_footer_2":"","product_form_footer_2_image":null}
[ {"size_guide_tag":"womens-outerwear-size-guide","size_guide_image":"\/\/cdn.shopify.com\/s\/files\/1\/2097\/1975\/files\/womens-outerwear-size-guide.jpg?v=1517023290"}, {"size_guide_tag":"womens-swim-size-guide","size_guide_image":"\/\/cdn.shopify.com\/s\/files\/1\/2097\/1975\/files\/Updated-Womens-Swim-Size-Guide.jpg?v=1517023337"}, {"size_guide_tag":"girls-size-guide","size_guide_image":"\/\/cdn.shopify.com\/s\/files\/1\/2097\/1975\/files\/Girls-Size-Guide.jpg?v=1517023316"}, {"size_guide_tag":"kids-glove-size-guide","size_guide_image":"\/\/cdn.shopify.com\/s\/files\/1\/2097\/1975\/files\/Fall_2016_Kids_Gloves.jpg?v=1517023316"}, {"size_guide_tag":"kids-glove-size-guide-2015","size_guide_image":"\/\/cdn.shopify.com\/s\/files\/1\/2097\/1975\/files\/Kids-Gloves-Chart-2015.jpg?v=1517023316"}, {"size_guide_tag":"mens-and-womens-gloves","size_guide_image":"\/\/cdn.shopify.com\/s\/files\/1\/2097\/1975\/files\/Men-Women-Gloves-SM_-LXL.jpg?v=1517023316"}, {"size_guide_tag":"mens-size-guide-with-b\u0026t","size_guide_image":"\/\/cdn.shopify.com\/s\/files\/1\/2097\/1975\/files\/mens-size-guide-with-b_t_8cb380a6-3e10-4c8b-ade0-d848d9650297.jpg?v=1519851280"}, {"size_guide_tag":"womens-petite-size-guide","size_guide_image":"\/\/cdn.shopify.com\/s\/files\/1\/2097\/1975\/files\/Women_s_PETITE_size_guide_656647d1-013e-46fd-bb7a-d706a7ee234b.jpg?v=1517023337"}, {"size_guide_tag":"womens-plus-swim-size-guide","size_guide_image":"\/\/cdn.shopify.com\/s\/files\/1\/2097\/1975\/files\/New-Plus-Size-Swim-Size-Guide_8ccdff1b-7dab-4341-8ec8-c0fffbd6d6f5.jpg?v=1517023337"}, {"size_guide_tag":"womens-plus-outerwear-size-guide","size_guide_image":"\/\/cdn.shopify.com\/s\/files\/1\/2097\/1975\/files\/Womens-Outerwear-PLUS-Size-Guide---2014_440dbddc-498e-4612-a47f-d23d0c8d9b70.jpg?v=1517023337"}, {"size_guide_tag":"boys-size-guide","size_guide_image":"\/\/cdn.shopify.com\/s\/files\/1\/2097\/1975\/files\/Boys-Size-guide_b7f4f85a-d3ea-4c0f-873b-ab023e8f4166.jpg?v=1517023337"}, {"size_guide_tag":"boys-size-guide-little","size_guide_image":"\/\/cdn.shopify.com\/s\/files\/1\/2097\/1975\/files\/Boys-Size-guide-LITTLE_5350b69a-5540-4a65-9ea0-d2881692ff5a.jpg?v=1517023337"}, {"size_guide_tag":"girls-size-guide-little","size_guide_image":"\/\/cdn.shopify.com\/s\/files\/1\/2097\/1975\/files\/Girls-Size-Guide-LITTLE_4cc268b5-6053-4384-9b9e-276f5b5920b3.jpg?v=1517023337"}, {"size_guide_tag":"girls-windbreaker-size-guide","size_guide_image":"\/\/cdn.shopify.com\/s\/files\/1\/2097\/1975\/files\/girls-windbreaker-size-guide.jpg?v=1517023337"}, {"size_guide_tag":"girls-swim-size-guide","size_guide_image":"\/\/cdn.shopify.com\/s\/files\/1\/2097\/1975\/files\/Girls-Swim-Size-Guide_fc2f9e6b-8482-4cb3-b986-b62186f68ab3.jpg?v=1517023337"}, {"size_guide_tag":"boys-swim-size-guide-costco","size_guide_image":"\/\/cdn.shopify.com\/s\/files\/1\/2097\/1975\/files\/Boys-costco.jpg?v=1517023337"}, {"size_guide_tag":"kids-size-guide-sams","size_guide_image":"\/\/cdn.shopify.com\/s\/files\/1\/2097\/1975\/files\/Big_and_Little_Kids_Size_Chart_-_Sams_ede0e12b-3094-4b7f-bf43-dacd9ea04eff.jpg?v=1517023399"}, {"size_guide_tag":"kids-size-guide-toddler","size_guide_image":"\/\/cdn.shopify.com\/s\/files\/1\/2097\/1975\/files\/Toddler_size_guide.jpg?v=1517023399"}, {"size_guide_tag":"boys-windbreaker-size-guide","size_guide_image":"\/\/cdn.shopify.com\/s\/files\/1\/2097\/1975\/files\/Boys_windbreaker_size_guide_-_pricesmart_538cb3dd-08b4-46f0-ac61-3925462b1ede.jpg?v=1517023406"}, {"size_guide_tag":"girls-down-size-guide","size_guide_image":"\/\/cdn.shopify.com\/s\/files\/1\/2097\/1975\/files\/Girls-Specular-Down-Size-Guide_049aa289-be22-44a8-8ee3-2764cfb549db.jpg?v=1509396996"}, {"size_guide_tag":"men-women-glove-size-guide-2017","size_guide_image":"\/\/cdn.shopify.com\/s\/files\/1\/2097\/1975\/files\/Adult_Gloves_Size_Guide_-_2017.jpg?v=1509552630"}, {"size_guide_tag":"boys-glove-size-guide-2017","size_guide_image":"\/\/cdn.shopify.com\/s\/files\/1\/2097\/1975\/files\/Boys_Gloves_Size_Guide_-_2017.jpg?v=1509552650"}, {"size_guide_tag":"girls-glove-size-guide-2017","size_guide_image":"\/\/cdn.shopify.com\/s\/files\/1\/2097\/1975\/files\/Girls_Gloves_Size_Guide_-_2017.jpg?v=1509552666"}, {"size_guide_tag":"dog-jacket-size-guide","size_guide_image":"\/\/cdn.shopify.com\/s\/files\/1\/2097\/1975\/files\/Dog_Size_Chart-01.jpg?v=1513005572"}, {"size_guide_tag":"boys-costco-size-guide","size_guide_image":"\/\/cdn.shopify.com\/s\/files\/1\/2097\/1975\/files\/boys-costco-size-guide.jpg?v=1535644385"}, {"size_guide_tag":"girls-costco-size-guide","size_guide_image":"\/\/cdn.shopify.com\/s\/files\/1\/2097\/1975\/files\/girls-costco-size-guide.jpg?v=1535644425"}, {"size_guide_tag":"free2b-size-guide","size_guide_image":"\/\/cdn.shopify.com\/s\/files\/1\/2097\/1975\/files\/free2b-size-guide.jpg?v=1539199007"}, {"size_guide_tag":"mens-active-size-guide","size_guide_image":"\/\/cdn.shopify.com\/s\/files\/1\/2097\/1975\/files\/mens-active-size-guide.jpg?v=1539199028"}, {"size_guide_tag":"boys-sock-size-guide","size_guide_image":"\/\/cdn.shopify.com\/s\/files\/1\/2097\/1975\/files\/boys-sock-size-guide.jpg?v=1541614345"}, {"size_guide_tag":"girls-sock-size-guide","size_guide_image":"\/\/cdn.shopify.com\/s\/files\/1\/2097\/1975\/files\/girls-sock-size-guide.jpg?v=1541614358"}, {"size_guide_tag":"mens-ski-pant-size-guide","size_guide_image":"\/\/cdn.shopify.com\/s\/files\/1\/2097\/1975\/files\/mens-ski-pant-size-guide.jpg?v=1560196284"}, {"size_guide_tag":"womens-ski-pant-size-guide","size_guide_image":"\/\/cdn.shopify.com\/s\/files\/1\/2097\/1975\/files\/ladies-ski-pant-size-guide.jpg?v=1560196300"} ]
Men's Cross Hatch 3-in-1 Systems Jacket
Our performance-driven 3-in-1 Systems Jackets will see you through several seasons. For a warm and comfy feeling during the mild fall weather, just throw on the inner puffer jacket. For added protection during the biting winter cold, wear with the heavy-duty, weather-resistant outer shell.
100% Polyester
Cross hatch shell with fleece lining and zip out multi rip-stop inner jacket
Length from Center Back:

S – 30.5"
M – 31"
L – 31.5"
XL – 32"
XXL – 32.5"

Wind resistant
Water resistant
3-in-1 System
Detachable hood with bungee cord and cord lock
Chest seam pockets with zipper closure
Lower patch pockets
Interior pocket
Drop tail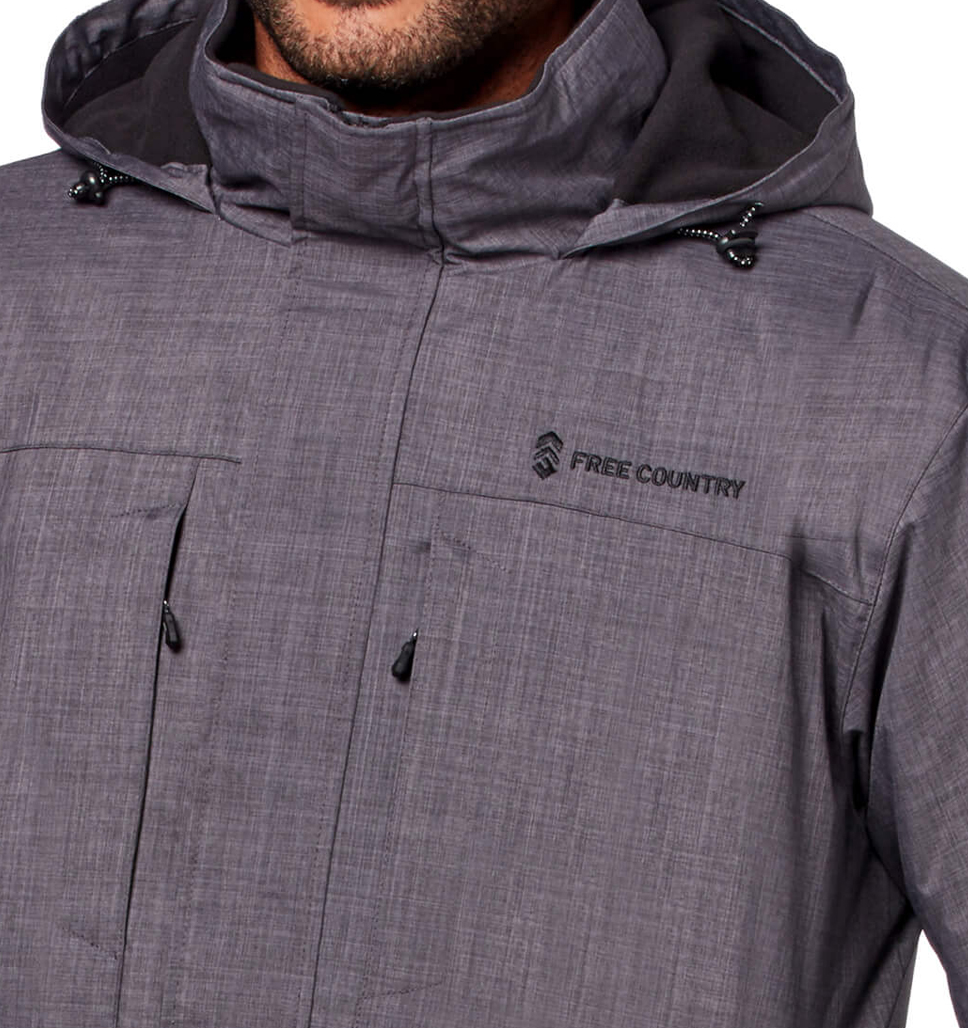 30 Years in the Making
1
QUALITY
At Free Country we are not trendy. We are trend right. Our products are designed to be long lasting, functional and styled well.
2
VALUE
Our products have withstood the test of time. Our goal is to equip our community with everyday products that over deliver and over perform at a price that might surprise you.
3
TRUST
For 30 years, we have tested, developed and created long lasting products that have earned the trust of our community. We are confident we can continue to do this for the 30 years to come!