Men's Agile Windshear Jacket
{"product_form_footer_1":"\u003cp\u003eFree Shipping For Orders Over $50\u003c\/p\u003e","product_form_footer_2":""}
[ {"size_guide_tag":"womens-outerwear-size-guide","size_guide_image":"\/\/cdn.shopify.com\/s\/files\/1\/2097\/1975\/files\/womens-outerwear-size-guide.jpg?v=1517023290"}, {"size_guide_tag":"womens-swim-size-guide","size_guide_image":"\/\/cdn.shopify.com\/s\/files\/1\/2097\/1975\/files\/Updated-Womens-Swim-Size-Guide.jpg?v=1517023337"}, {"size_guide_tag":"girls-size-guide","size_guide_image":"\/\/cdn.shopify.com\/s\/files\/1\/2097\/1975\/files\/Girls-Size-Guide.jpg?v=1517023316"}, {"size_guide_tag":"kids-glove-size-guide","size_guide_image":"\/\/cdn.shopify.com\/s\/files\/1\/2097\/1975\/files\/Fall_2016_Kids_Gloves.jpg?v=1517023316"}, {"size_guide_tag":"kids-glove-size-guide-2015","size_guide_image":"\/\/cdn.shopify.com\/s\/files\/1\/2097\/1975\/files\/Kids-Gloves-Chart-2015.jpg?v=1517023316"}, {"size_guide_tag":"mens-and-womens-gloves","size_guide_image":"\/\/cdn.shopify.com\/s\/files\/1\/2097\/1975\/files\/Men-Women-Gloves-SM_-LXL.jpg?v=1517023316"}, {"size_guide_tag":"mens-size-guide-with-b\u0026t","size_guide_image":"\/\/cdn.shopify.com\/s\/files\/1\/2097\/1975\/files\/mens-size-guide-with-b_t_8cb380a6-3e10-4c8b-ade0-d848d9650297.jpg?v=1519851280"}, {"size_guide_tag":"womens-petite-size-guide","size_guide_image":"\/\/cdn.shopify.com\/s\/files\/1\/2097\/1975\/files\/Women_s_PETITE_size_guide_656647d1-013e-46fd-bb7a-d706a7ee234b.jpg?v=1517023337"}, {"size_guide_tag":"womens-plus-swim-size-guide","size_guide_image":"\/\/cdn.shopify.com\/s\/files\/1\/2097\/1975\/files\/New-Plus-Size-Swim-Size-Guide_8ccdff1b-7dab-4341-8ec8-c0fffbd6d6f5.jpg?v=1517023337"}, {"size_guide_tag":"womens-plus-outerwear-size-guide","size_guide_image":"\/\/cdn.shopify.com\/s\/files\/1\/2097\/1975\/files\/Womens-Outerwear-PLUS-Size-Guide---2014_440dbddc-498e-4612-a47f-d23d0c8d9b70.jpg?v=1517023337"}, {"size_guide_tag":"boys-size-guide","size_guide_image":"\/\/cdn.shopify.com\/s\/files\/1\/2097\/1975\/files\/Boys-Size-guide_b7f4f85a-d3ea-4c0f-873b-ab023e8f4166.jpg?v=1517023337"}, {"size_guide_tag":"boys-size-guide-little","size_guide_image":"\/\/cdn.shopify.com\/s\/files\/1\/2097\/1975\/files\/Boys-Size-guide-LITTLE_5350b69a-5540-4a65-9ea0-d2881692ff5a.jpg?v=1517023337"}, {"size_guide_tag":"girls-size-guide-little","size_guide_image":"\/\/cdn.shopify.com\/s\/files\/1\/2097\/1975\/files\/Girls-Size-Guide-LITTLE_4cc268b5-6053-4384-9b9e-276f5b5920b3.jpg?v=1517023337"}, {"size_guide_tag":"girls-windbreaker-size-guide","size_guide_image":"\/\/cdn.shopify.com\/s\/files\/1\/2097\/1975\/files\/girls-windbreaker-size-guide.jpg?v=1517023337"}, {"size_guide_tag":"girls-swim-size-guide","size_guide_image":"\/\/cdn.shopify.com\/s\/files\/1\/2097\/1975\/files\/Girls-Swim-Size-Guide_fc2f9e6b-8482-4cb3-b986-b62186f68ab3.jpg?v=1517023337"}, {"size_guide_tag":"boys-swim-size-guide-costco","size_guide_image":"\/\/cdn.shopify.com\/s\/files\/1\/2097\/1975\/files\/Boys-costco.jpg?v=1517023337"}, {"size_guide_tag":"kids-size-guide-sams","size_guide_image":"\/\/cdn.shopify.com\/s\/files\/1\/2097\/1975\/files\/Big_and_Little_Kids_Size_Chart_-_Sams_ede0e12b-3094-4b7f-bf43-dacd9ea04eff.jpg?v=1517023399"}, {"size_guide_tag":"kids-size-guide-toddler","size_guide_image":"\/\/cdn.shopify.com\/s\/files\/1\/2097\/1975\/files\/Toddler_size_guide.jpg?v=1517023399"}, {"size_guide_tag":"boys-windbreaker-size-guide","size_guide_image":"\/\/cdn.shopify.com\/s\/files\/1\/2097\/1975\/files\/Boys_windbreaker_size_guide_-_pricesmart_538cb3dd-08b4-46f0-ac61-3925462b1ede.jpg?v=1517023406"}, {"size_guide_tag":"girls-down-size-guide","size_guide_image":"\/\/cdn.shopify.com\/s\/files\/1\/2097\/1975\/files\/Girls-Specular-Down-Size-Guide_049aa289-be22-44a8-8ee3-2764cfb549db.jpg?v=1509396996"}, {"size_guide_tag":"men-women-glove-size-guide-2017","size_guide_image":"\/\/cdn.shopify.com\/s\/files\/1\/2097\/1975\/files\/Adult_Gloves_Size_Guide_-_2017.jpg?v=1509552630"}, {"size_guide_tag":"boys-glove-size-guide-2017","size_guide_image":"\/\/cdn.shopify.com\/s\/files\/1\/2097\/1975\/files\/Boys_Gloves_Size_Guide_-_2017.jpg?v=1509552650"}, {"size_guide_tag":"girls-glove-size-guide-2017","size_guide_image":"\/\/cdn.shopify.com\/s\/files\/1\/2097\/1975\/files\/Girls_Gloves_Size_Guide_-_2017.jpg?v=1509552666"}, {"size_guide_tag":"dog-jacket-size-guide","size_guide_image":"\/\/cdn.shopify.com\/s\/files\/1\/2097\/1975\/files\/Dog_Size_Chart-01.jpg?v=1513005572"}, {"size_guide_tag":"boys-costco-size-guide","size_guide_image":"\/\/cdn.shopify.com\/s\/files\/1\/2097\/1975\/files\/boys-costco-size-guide.jpg?v=1535644385"}, {"size_guide_tag":"girls-costco-size-guide","size_guide_image":"\/\/cdn.shopify.com\/s\/files\/1\/2097\/1975\/files\/girls-costco-size-guide.jpg?v=1535644425"}, {"size_guide_tag":"free2b-size-guide","size_guide_image":"\/\/cdn.shopify.com\/s\/files\/1\/2097\/1975\/files\/free2b-size-guide.jpg?v=1539199007"}, {"size_guide_tag":"mens-active-size-guide","size_guide_image":"\/\/cdn.shopify.com\/s\/files\/1\/2097\/1975\/files\/mens-active-size-guide.jpg?v=1539199028"}, {"size_guide_tag":"boys-sock-size-guide","size_guide_image":"\/\/cdn.shopify.com\/s\/files\/1\/2097\/1975\/files\/boys-sock-size-guide.jpg?v=1541614345"}, {"size_guide_tag":"girls-sock-size-guide","size_guide_image":"\/\/cdn.shopify.com\/s\/files\/1\/2097\/1975\/files\/girls-sock-size-guide.jpg?v=1541614358"}, {"size_guide_tag":"mens-ski-pant-size-guide","size_guide_image":"\/\/cdn.shopify.com\/s\/files\/1\/2097\/1975\/files\/mens-ski-pant-size-guide.jpg?v=1560196284"}, {"size_guide_tag":"womens-ski-pant-size-guide","size_guide_image":"\/\/cdn.shopify.com\/s\/files\/1\/2097\/1975\/files\/ladies-ski-pant-size-guide.jpg?v=1560196300"}, {"size_guide_tag":"womens-bermuda-board-short-size-guide","size_guide_image":"\/\/cdn.shopify.com\/s\/files\/1\/2097\/1975\/files\/womens-bermuda-board-short-size-guide_487ae7ee-d6a2-4d1a-9654-01f0032574a4.jpg?v=1619800856"}, {"size_guide_tag":"womens-bermuda-board-short-ii-size-guide","size_guide_image":"\/\/cdn.shopify.com\/s\/files\/1\/2097\/1975\/files\/womens-bermuda-board-short-ii-size-guide_ad0b6652-58ef-431c-a1db-2c35b2fb727e.jpg?v=1619800874"}, {"size_guide_tag":"womens-plus-size-bermuda-board-short-ii-size-guide","size_guide_image":"\/\/cdn.shopify.com\/s\/files\/1\/2097\/1975\/files\/womens-plus-size-bermuda-board-short-ii-size-guide_0c27cd55-0d5c-4f3f-b07c-6fcf80b59a10.jpg?v=1619800901"}, {"size_guide_tag":"womens-plus-size-bermuda-board-short-size-guide","size_guide_image":"\/\/cdn.shopify.com\/s\/files\/1\/2097\/1975\/files\/womens-plus-size-bermuda-board-short-size-guide_b0d0fee3-77be-4a54-b7f6-e79b62a4700a.jpg?v=1619800918"}, {"size_guide_tag":"womens-wrap-swim-skirt-size-guide","size_guide_image":"\/\/cdn.shopify.com\/s\/files\/1\/2097\/1975\/files\/womens-wrap-swim-skirt-size-guide.jpg?v=1619801159"}, {"size_guide_tag":"womens-plus-size-wrap-swim-skirt-size-guide","size_guide_image":"\/\/cdn.shopify.com\/s\/files\/1\/2097\/1975\/files\/womens-plus-size-wrap-swim-skirt-size-guide.jpg?v=1619801223"}, {"size_guide_tag":"womens-boy-short-size-guide","size_guide_image":"\/\/cdn.shopify.com\/s\/files\/1\/2097\/1975\/files\/womens-boy-short-size-guide.jpg?v=1619801382"}, {"size_guide_tag":"womens-drawstring-swim-short-size-guide","size_guide_image":"\/\/cdn.shopify.com\/s\/files\/1\/2097\/1975\/files\/womens-drawstring-swim-short-size-guide.jpg?v=1619801544"}, {"size_guide_tag":"womens-plus-size-drawstring-swim-short-size-guide","size_guide_image":"\/\/cdn.shopify.com\/s\/files\/1\/2097\/1975\/files\/womens-plus-size-drawstring-swim-short-size-guide.jpg?v=1619801678"}, {"size_guide_tag":"womens-jean-swim-short-size-guide","size_guide_image":"\/\/cdn.shopify.com\/s\/files\/1\/2097\/1975\/files\/womens-jean-swim-short-size-guide.jpg?v=1619801802"}, {"size_guide_tag":"womens-mesh-detail-swim-short-size-guide","size_guide_image":"\/\/cdn.shopify.com\/s\/files\/1\/2097\/1975\/files\/womens-mesh-detail-swim-short-size-guide.jpg?v=1619802461"}, {"size_guide_tag":"womens-plus-size-mesh-detail-swim-short-size-guide","size_guide_image":"\/\/cdn.shopify.com\/s\/files\/1\/2097\/1975\/files\/womens-plus-size-mesh-detail-swim-short-size-guide.jpg?v=1619802524"}, {"size_guide_tag":"womens-petal-opening-drawstring-swim-short-size-guide","size_guide_image":"\/\/cdn.shopify.com\/s\/files\/1\/2097\/1975\/files\/womens-petal-opening-drawstring-swim-short-size-guide.jpg?v=1619802646"}, {"size_guide_tag":"womens-woven-stretch-cargo-short-size-guide","size_guide_image":"\/\/cdn.shopify.com\/s\/files\/1\/2097\/1975\/files\/womens-woven-stretch-cargo-short-size-guide.jpg?v=1619802828"}, {"size_guide_tag":"womens-plus-size-woven-stretch-cargo-short-size-guide","size_guide_image":"\/\/cdn.shopify.com\/s\/files\/1\/2097\/1975\/files\/womens-plus-size-woven-stretch-cargo-short-size-guide.jpg?v=1619802965"}, {"size_guide_tag":"womens-woven-stretch-swim-short-size-guide","size_guide_image":"\/\/cdn.shopify.com\/s\/files\/1\/2097\/1975\/files\/womens-woven-stretch-swim-short-size-guide.jpg?v=1619803094"}, {"size_guide_tag":"womens-plus-size-woven-stretch-swim-short-size-guide","size_guide_image":"\/\/cdn.shopify.com\/s\/files\/1\/2097\/1975\/files\/womens-plus-size-woven-stretch-swim-short-size-guide.jpg?v=1619803164"}, {"size_guide_tag":"womens-drawstring-swim-skirt-size-guide","size_guide_image":"\/\/cdn.shopify.com\/s\/files\/1\/2097\/1975\/files\/womens-drawstring-swim-skirt-size-guide.jpg?v=1619803587"}, {"size_guide_tag":"womens-plus-size-drawstring-swim-skirt-size-guide","size_guide_image":"\/\/cdn.shopify.com\/s\/files\/1\/2097\/1975\/files\/womens-plus-size-drawstring-swim-skirt-size-guide.jpg?v=1619803671"}, {"size_guide_tag":"womens-plus-size-drawcord-swim-skirt-size-guide","size_guide_image":"\/\/cdn.shopify.com\/s\/files\/1\/2097\/1975\/files\/womens-plus-size-drawcord-swim-skirt-size-guide.jpg?v=1619803766"}, {"size_guide_tag":"womens-side-shirred-skirt-size-guide","size_guide_image":"\/\/cdn.shopify.com\/s\/files\/1\/2097\/1975\/files\/womens-side-shirred-skirt-size-guide.jpg?v=1619803905"}, {"size_guide_tag":"womens-plus-size-side-shirred-skirt-size-guide","size_guide_image":"\/\/cdn.shopify.com\/s\/files\/1\/2097\/1975\/files\/womens-plus-size-side-shirred-skirt-size-guide.jpg?v=1619803968"}, {"size_guide_tag":"missy-tankini-size-guide","size_guide_image":"\/\/cdn.shopify.com\/s\/files\/1\/2097\/1975\/files\/missy-tankini-size-guide.jpg?v=1619804020"}, {"size_guide_tag":"plus-tankini-size-guide","size_guide_image":"\/\/cdn.shopify.com\/s\/files\/1\/2097\/1975\/files\/plus-tankini-size-guide.jpg?v=1619804034"}, {"size_guide_tag":"mens-AOW-size-guide","size_guide_image":"\/\/cdn.shopify.com\/s\/files\/1\/2097\/1975\/files\/mens-AOW-size-guide.jpg?v=1620935243"}, {"size_guide_tag":"mens-big-and-tall-size-guide","size_guide_image":"\/\/cdn.shopify.com\/s\/files\/1\/2097\/1975\/files\/mens-big-and-tall-size-guide.jpg?v=1620935263"}, {"size_guide_tag":"womens-AOW-size-guide","size_guide_image":"\/\/cdn.shopify.com\/s\/files\/1\/2097\/1975\/files\/womens-AOW-size-guide.jpg?v=1620935281"}, {"size_guide_tag":"womens-plus-AOW-size-guide","size_guide_image":"\/\/cdn.shopify.com\/s\/files\/1\/2097\/1975\/files\/womens-plus-AOW-size-guide.jpg?v=1620935297"}, {"size_guide_tag":"mens-tech-short-ii-size-guide","size_guide_image":"\/\/cdn.shopify.com\/s\/files\/1\/2097\/1975\/files\/mens-tech-short-ii-size-guide.jpg?v=1622822387"}, {"size_guide_tag":"mens-bold-textured-board-short-size-guide","size_guide_image":"\/\/cdn.shopify.com\/s\/files\/1\/2097\/1975\/files\/mens-bold-textured-board-short-size-guide.jpg?v=1622826330"}, {"size_guide_tag":"mens-free-comfort-stretch-short-size-guide","size_guide_image":"\/\/cdn.shopify.com\/s\/files\/1\/2097\/1975\/files\/mens-free-comfort-stretch-short-size-guide_ddeccf16-1a21-435f-91f6-0d2a88cfefe8.jpg?v=1622827324"}, {"size_guide_tag":"mens-kickback-microtech-pant-size-guide","size_guide_image":"\/\/cdn.shopify.com\/s\/files\/1\/2097\/1975\/files\/mens-kickback-microtech-pant-size-guide.jpg?v=1622826353"}, {"size_guide_tag":"mens-ridge-weave-trek-pant-size-guide","size_guide_image":"\/\/cdn.shopify.com\/s\/files\/1\/2097\/1975\/files\/mens-ridge-weave-trek-pant-size-guide.jpg?v=1622826364"}, {"size_guide_tag":"mens-rustic-woven-zip-off-cargo-pant-size-guide","size_guide_image":"\/\/cdn.shopify.com\/s\/files\/1\/2097\/1975\/files\/mens-rustic-woven-zip-off-cargo-pant-size-guide.jpg?v=1622826374"}, {"size_guide_tag":"mens-stretch-active-poplin-trek-cargo-short-size-guide","size_guide_image":"\/\/cdn.shopify.com\/s\/files\/1\/2097\/1975\/files\/mens-stretch-active-poplin-trek-cargo-short-size-guide_f3f9521e-0fca-42c7-9256-a8e287e546b3.jpg?v=1622826391"}, {"size_guide_tag":"mens-textured-board-short-size-guide","size_guide_image":"\/\/cdn.shopify.com\/s\/files\/1\/2097\/1975\/files\/mens-textured-board-short-size-guide.jpg?v=1622826403"} ]
Men's Agile Windshear Jacket
Cut through the weather with this ultra-lightweight windshear jacket. The unlined shell gives you the weather protection you need without weighing you down. Perfectly packable so you're ready for any stray summer shower that catches you off guard.
100% Polyester
Wind Resistant
Water Resistant
Unlined
Attached Hood
Chest Zipper Pocket
Lower Seam Zipper Pockets
Elastic Cuffs
Adjustable Drawcord at Lower Waist
Interior Storm Placket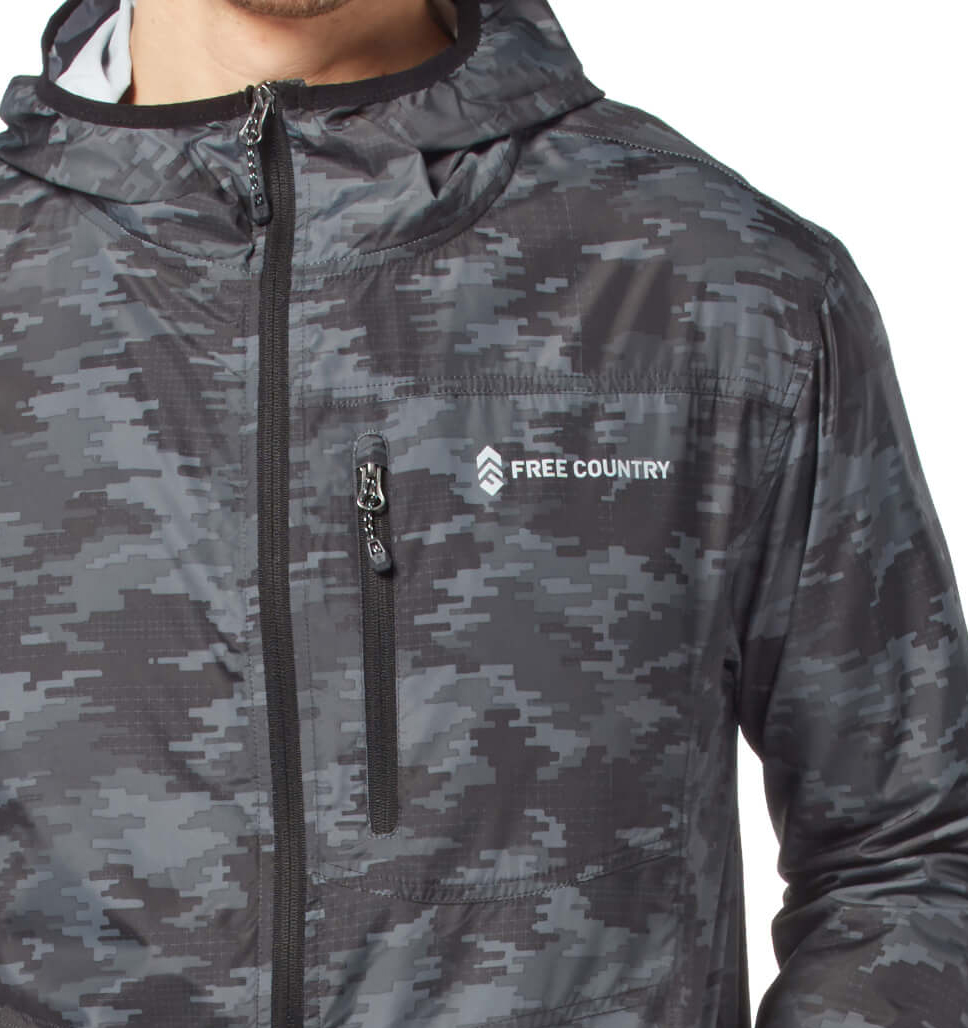 What is a Windshear?
Discover our version of a classic windbreaker. A weather resistant exterior meets ridiculously cozy fleece linings to keep the whole family ready for adventure.
The Windshear is designed to cater to both your personal needs and the demands of the weather, with an outer shell layer protecting you from the elements with tested wind and water resistance, coupled with an inner layer that's warm and soft thanks to our signature fleece linings.
Our Free Country Windshear Jackets have been designed with the purpose and commitment to become the perfect between-seasons staple, with versatility and coziness built into one!
30 Years in the Making
1
QUALITY
At Free Country we are not trendy. We are trend right. Our products are designed to be long lasting, functional and styled well.
2
VALUE
Our products have withstood the test of time. Our goal is to equip our community with everyday products that over deliver and over perform at a price that might surprise you.
3
TRUST
For 30 years, we have tested, developed and created long lasting products that have earned the trust of our community. We are confident we can continue to do this for the 30 years to come!