Boys' Shredder Rip Stop Boarder Jacket
{"product_form_footer_1":"\u003cp\u003eFree Shipping For Orders Over $50\u003c\/p\u003e","product_form_footer_2":""}
[ {"size_guide_tag":"womens-outerwear-size-guide","size_guide_image":"\/\/cdn.shopify.com\/s\/files\/1\/2097\/1975\/files\/womens-outerwear-size-guide.jpg?v=1517023290"}, {"size_guide_tag":"womens-swim-size-guide","size_guide_image":"\/\/cdn.shopify.com\/s\/files\/1\/2097\/1975\/files\/Updated-Womens-Swim-Size-Guide.jpg?v=1517023337"}, {"size_guide_tag":"girls-size-guide","size_guide_image":"\/\/cdn.shopify.com\/s\/files\/1\/2097\/1975\/files\/Girls-Size-Guide.jpg?v=1517023316"}, {"size_guide_tag":"kids-glove-size-guide","size_guide_image":"\/\/cdn.shopify.com\/s\/files\/1\/2097\/1975\/files\/Fall_2016_Kids_Gloves.jpg?v=1517023316"}, {"size_guide_tag":"kids-glove-size-guide-2015","size_guide_image":"\/\/cdn.shopify.com\/s\/files\/1\/2097\/1975\/files\/Kids-Gloves-Chart-2015.jpg?v=1517023316"}, {"size_guide_tag":"mens-and-womens-gloves","size_guide_image":"\/\/cdn.shopify.com\/s\/files\/1\/2097\/1975\/files\/Men-Women-Gloves-SM_-LXL.jpg?v=1517023316"}, {"size_guide_tag":"mens-size-guide-with-b\u0026t","size_guide_image":"\/\/cdn.shopify.com\/s\/files\/1\/2097\/1975\/files\/mens-size-guide-with-b_t_8cb380a6-3e10-4c8b-ade0-d848d9650297.jpg?v=1519851280"}, {"size_guide_tag":"womens-petite-size-guide","size_guide_image":"\/\/cdn.shopify.com\/s\/files\/1\/2097\/1975\/files\/Women_s_PETITE_size_guide_656647d1-013e-46fd-bb7a-d706a7ee234b.jpg?v=1517023337"}, {"size_guide_tag":"womens-plus-swim-size-guide","size_guide_image":"\/\/cdn.shopify.com\/s\/files\/1\/2097\/1975\/files\/New-Plus-Size-Swim-Size-Guide_8ccdff1b-7dab-4341-8ec8-c0fffbd6d6f5.jpg?v=1517023337"}, {"size_guide_tag":"womens-plus-outerwear-size-guide","size_guide_image":"\/\/cdn.shopify.com\/s\/files\/1\/2097\/1975\/files\/Womens-Outerwear-PLUS-Size-Guide---2014_440dbddc-498e-4612-a47f-d23d0c8d9b70.jpg?v=1517023337"}, {"size_guide_tag":"boys-size-guide","size_guide_image":"\/\/cdn.shopify.com\/s\/files\/1\/2097\/1975\/files\/Boys-Size-guide_b7f4f85a-d3ea-4c0f-873b-ab023e8f4166.jpg?v=1517023337"}, {"size_guide_tag":"boys-size-guide-little","size_guide_image":"\/\/cdn.shopify.com\/s\/files\/1\/2097\/1975\/files\/Boys-Size-guide-LITTLE_5350b69a-5540-4a65-9ea0-d2881692ff5a.jpg?v=1517023337"}, {"size_guide_tag":"girls-size-guide-little","size_guide_image":"\/\/cdn.shopify.com\/s\/files\/1\/2097\/1975\/files\/Girls-Size-Guide-LITTLE_4cc268b5-6053-4384-9b9e-276f5b5920b3.jpg?v=1517023337"}, {"size_guide_tag":"girls-windbreaker-size-guide","size_guide_image":"\/\/cdn.shopify.com\/s\/files\/1\/2097\/1975\/files\/girls-windbreaker-size-guide.jpg?v=1517023337"}, {"size_guide_tag":"girls-swim-size-guide","size_guide_image":"\/\/cdn.shopify.com\/s\/files\/1\/2097\/1975\/files\/Girls-Swim-Size-Guide_fc2f9e6b-8482-4cb3-b986-b62186f68ab3.jpg?v=1517023337"}, {"size_guide_tag":"boys-swim-size-guide-costco","size_guide_image":"\/\/cdn.shopify.com\/s\/files\/1\/2097\/1975\/files\/Boys-costco.jpg?v=1517023337"}, {"size_guide_tag":"kids-size-guide-sams","size_guide_image":"\/\/cdn.shopify.com\/s\/files\/1\/2097\/1975\/files\/Big_and_Little_Kids_Size_Chart_-_Sams_ede0e12b-3094-4b7f-bf43-dacd9ea04eff.jpg?v=1517023399"}, {"size_guide_tag":"kids-size-guide-toddler","size_guide_image":"\/\/cdn.shopify.com\/s\/files\/1\/2097\/1975\/files\/Toddler_size_guide.jpg?v=1517023399"}, {"size_guide_tag":"boys-windbreaker-size-guide","size_guide_image":"\/\/cdn.shopify.com\/s\/files\/1\/2097\/1975\/files\/Boys_windbreaker_size_guide_-_pricesmart_538cb3dd-08b4-46f0-ac61-3925462b1ede.jpg?v=1517023406"}, {"size_guide_tag":"girls-down-size-guide","size_guide_image":"\/\/cdn.shopify.com\/s\/files\/1\/2097\/1975\/files\/Girls-Specular-Down-Size-Guide_049aa289-be22-44a8-8ee3-2764cfb549db.jpg?v=1509396996"}, {"size_guide_tag":"men-women-glove-size-guide-2017","size_guide_image":"\/\/cdn.shopify.com\/s\/files\/1\/2097\/1975\/files\/Adult_Gloves_Size_Guide_-_2017.jpg?v=1509552630"}, {"size_guide_tag":"boys-glove-size-guide-2017","size_guide_image":"\/\/cdn.shopify.com\/s\/files\/1\/2097\/1975\/files\/Boys_Gloves_Size_Guide_-_2017.jpg?v=1509552650"}, {"size_guide_tag":"girls-glove-size-guide-2017","size_guide_image":"\/\/cdn.shopify.com\/s\/files\/1\/2097\/1975\/files\/Girls_Gloves_Size_Guide_-_2017.jpg?v=1509552666"}, {"size_guide_tag":"dog-jacket-size-guide","size_guide_image":"\/\/cdn.shopify.com\/s\/files\/1\/2097\/1975\/files\/Dog_Size_Chart-01.jpg?v=1513005572"}, {"size_guide_tag":"boys-costco-size-guide","size_guide_image":"\/\/cdn.shopify.com\/s\/files\/1\/2097\/1975\/files\/boys-costco-size-guide.jpg?v=1535644385"}, {"size_guide_tag":"girls-costco-size-guide","size_guide_image":"\/\/cdn.shopify.com\/s\/files\/1\/2097\/1975\/files\/girls-costco-size-guide.jpg?v=1535644425"}, {"size_guide_tag":"free2b-size-guide","size_guide_image":"\/\/cdn.shopify.com\/s\/files\/1\/2097\/1975\/files\/free2b-size-guide.jpg?v=1539199007"}, {"size_guide_tag":"mens-active-size-guide","size_guide_image":"\/\/cdn.shopify.com\/s\/files\/1\/2097\/1975\/files\/mens-active-size-guide.jpg?v=1539199028"}, {"size_guide_tag":"boys-sock-size-guide","size_guide_image":"\/\/cdn.shopify.com\/s\/files\/1\/2097\/1975\/files\/boys-sock-size-guide.jpg?v=1541614345"}, {"size_guide_tag":"girls-sock-size-guide","size_guide_image":"\/\/cdn.shopify.com\/s\/files\/1\/2097\/1975\/files\/girls-sock-size-guide.jpg?v=1541614358"}, {"size_guide_tag":"mens-ski-pant-size-guide","size_guide_image":"\/\/cdn.shopify.com\/s\/files\/1\/2097\/1975\/files\/mens-ski-pant-size-guide.jpg?v=1560196284"}, {"size_guide_tag":"womens-ski-pant-size-guide","size_guide_image":"\/\/cdn.shopify.com\/s\/files\/1\/2097\/1975\/files\/ladies-ski-pant-size-guide.jpg?v=1560196300"} ]
Boys' Shredder Boarder Jacket
With an imagination as big as his, you need a jacket to keep up with all the adventures he hasn't even thought up yet. Secure his comfort when he gets out there with the Shredder Boarder Jacket. Featuring a weather resistant exterior, a cozy interior fleece lining, a chin guard, and adjustable Velcro cuffs, this jacket will keep him warm and dry even when the weather is less than stellar.

Machine Washable
Wind resistant
Water resistant
Multi rip stop boarder
Faux reflective logo on lower pockets
Chin guard
Pop zipper on chest pockets
Detachable hood
Adjustable cuffs
Interior cell phone pocket
Interior fleece lining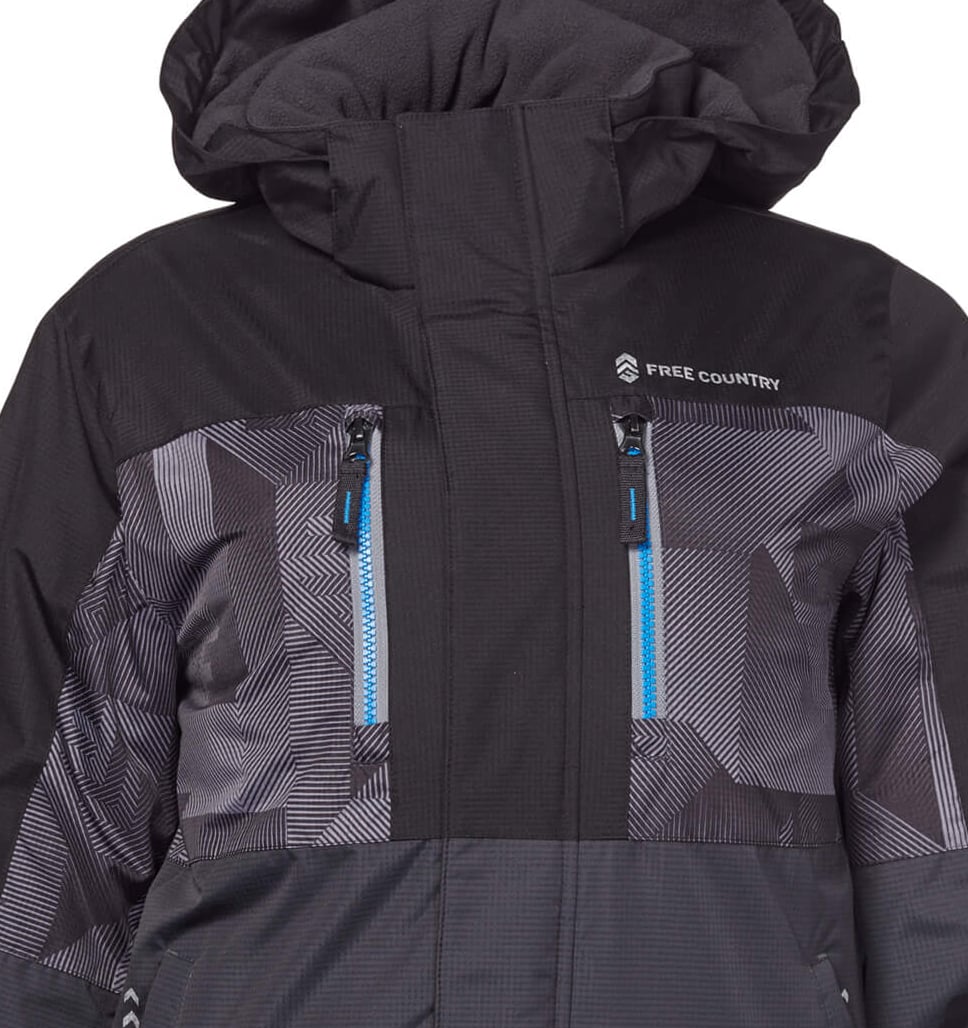 30 Years in the Making
1
QUALITY
At Free Country we are not trendy. We are trend right. Our products are designed to be long lasting, functional and styled well.
2
VALUE
Our products have withstood the test of time. Our goal is to equip our community with everyday products that over deliver and over perform at a price that might surprise you.
3
TRUST
For 30 years, we have tested, developed and created long lasting products that have earned the trust of our community. We are confident we can continue to do this for the 30 years to come!